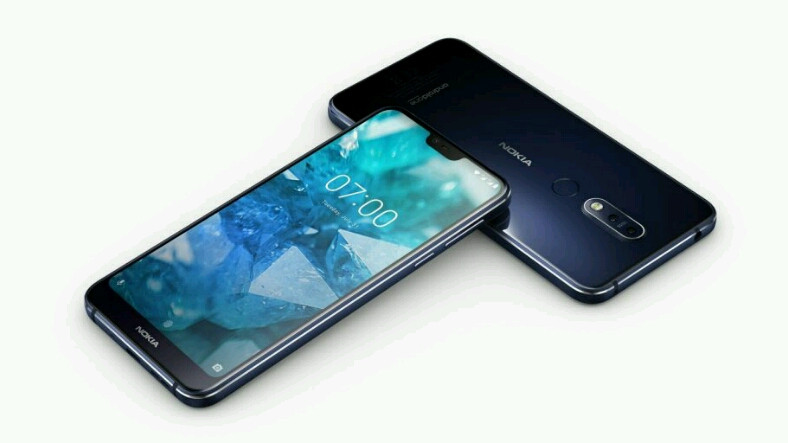 The new phone is included in the 1 Plus custom-set phone.
The new Nokia 9 PureView is a yellow color that can be used to be used. Nokia 1 Plus will help you use the phone model using this option.
The TA-1123 has a FCC number. Bu üründe; 2500mAh batarya, 5W (AD-5WU), 1 meter adapter, USB cable (CA-10W), Bluetooth 4.2 and MediaTek MT6739WW which is built-in. Ayrıca; The 5-inch LCD display (213 ppi) is built-in.
Nokia 1 Plus; görünüşe göre uygun fiyatıyla çok satan giriş seviyesi bir cihaz olacak. You have the new version of FCC Nokia 1 Plus that you do not need a situation.
Kaynak : https://www.gizchina.com/2019/02/12/nokia-1-plus-bags-fcc-certification/
$ (Function () {
// Facebook window.fbAsyncInit = function () { FB.init ({ appId: & # 39; 1037724072951294 & # 39 ;, xfbml: true, version: "v2.5" }); };
(function d, s, id) { var js, fjs = d.getElementsByTagName (s)[0]; if (d.getElementById (id)) {return;} js = d.createElement (s); js.id = id; js.src = "http://connect.facebook.net/tr_TR/sdk.js"; fjs.parentNode.insertBefore (js, fjs); } (document, script & # 39 ;, facebook-jssdk & # 39;));
$ ("Body"). On ({ click: function () { // facebook save the ajax button FB.XFBML.parse (); } }, & # 39; .facebook-save & # 39;);
// share scroll if ($ (> content = sticky) length> 0) { if ($ (window) .width () = = 768) { $ (window) .on (& # 39; scroll & # 39 ;, function () { var scrollTop = $ (this) .scrollTop (); $ (& # 39; article & # 39;). each (function () { if (scrollTop> = ($ (this) .find (". content-body" . $ (This) .find ("Content-sticky") addClass ("sticky"); if (scrollTop> = ($ (this) .find (".content-body") .offset () top + $ (this) .find (" )) .find (& quot; content-sticky & quot ;. height () + 92))) { $ (This) .find ("content-sticky.") RemoveClass ("sticky."); $ (this) .find (& quot; content-sticky & quot;). css ({& # 39;; & # 39; 0px & # 39; top & # 39 ;: & # 39; auto & # 39;}); } else { $ (This) .find ("" Content-sticky "). AddClass ("sticky"). CSS ({ "bottom": "initial", Top & # 39 ;: & # 39; 76px & # 39; }); } } else { $ (this) .find (". content-sticky"). removeClass (& quot; sticky & quot;). css ({& bottom & # 39; 'auto & # 39; top & # 39; 0 & # 39;}); } }); }); } }
// share click $ ("Body"). On ({ click: function () { var $ this = $ (this) dataShareType = $ this.attr (& quot; data-share-type & # 39;}, dataType = $ this.attr ("data type"), dataId = $ this.attr (& # 39; data-id & # 39;), dataPostUrl = $ this.attr ("data-after-url"), dataTitle = $ this.attr ("data-title"), dataSef = $ this.attr (& quot; data-head & quot;);
key (dataShareType) { case & facebook: FB.ui ({ method: sharing, href: dataSef, }, function (answer) { if (response &&! response.error_message) { updateHit (); } });
interruption;
case & twitter & # 39 ;: shareWindow (& https: //twitter.com/intent/tweet? via = webtekno & text = & # 39; + encodeURIComponent (dataTitle) + & # 39;% E2% 96% B6 & encodeURIComponent )); updateHit (); interruption;
case "gplus": shareWindow ("https://plus.google.com/share?url= & # 39; + encodeURIComponent (dataSef)); updateHit (); interruption;
case "mail": window.location.href = & # 39; mailto :? subject = & # 39; + encodeURIComponent (dataTitle) + & # 39; & body = & # 39; + encodeURIComponent (dataSef); // updateHit (); interruption;
case "whatsapp": window.location.href = & # 39; whatsapp: // send? text = & # 39; + encodeURIComponent (dataTitle) + & # 39;% E2% 96% B6 & # 39; + encodeURIComponent (dataSef); updateHit (); interruption; }
shareWindow (url) { window.open (url, "_blank", "toolbar = yes, scrollbars = yes, resize = yes, top = 500, left = 500, width = 400, height = 400"); }
function updateHit () { $ .Axax ({ type: "POST", url: dataPostUrl, data: {contentId: dataId, contentType: dataType, shareType: dataShareType}, success: function (data) {
if ($ (> showcase & # 39;) length> 0) { var $ container = $ (".video showcase"); } else if ($ (& # 39;[data-id="' + dataId + '"]& # 39; .length> 0) { var $ container = $ (& # 39;[data-id="' + dataId + '"]& # 39;); } else if ($ (& wt-share-item[data-id="' + dataId + '"]& # 39; .length> 0) { var $ container = $ (& # 39; wt-share-item[data-id="' + dataId + '"]& # 39;); } else { $ container = null; }
// var $ container = dataType == & # 39; video & # 39 ;? $ (& # 39; showcase & # 39;): $ (& # 39;[data-id="' + dataId + '"]& # 39;);
if ($ container! = null && $ container.length> 0) { var $ badged = $ container.find (& # 39; wt-share-badge - & # 39; + dataShareType);
var $ headerCount = $ (& # 39; content-header & # 39;). found (& wt-share-count & # 39;), $ containerCount = $ container.find (& wt-share-count & # 39;), value = parseInt ($ containerCount.html ()) + 1;
$ container.data (& quot; share & # 39;; value); //$containerCount.html(value);
if ($ headerCount.length> 0) { //$headerCount.html(value); }
if ($ badged.length> 0 && (dataShareType == & # 39; facebook & # 39; | dataShareType == & # 39; twitter & # 39;)) { if ($ badged.hasClass ("visible")) { //$badged.html(data); } else { //$badged.addClass('is-visible').html(data); } } }
} }); } } }, & # 39; .wt-share-button & # 39;) });
Source link