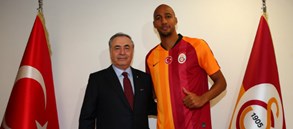 [ad_1]
Our new transfer Stephen Nzonzi visited our President Mustafa Chengiz in his office. Our Vice President Yusuf Gunay was also present during the visit.
President Mustafa Cengiz and actor Stephen Nzonzi made statements to Galatasaray TV.
Our President Mustafa Cengiz uses the following statements:
"Nzonzi is a world star. Galatasaray is a worldwide team. Both will look very good. Very good character, also a star. This is our tenth transfer this season. All the world stars are with us. We tried to collect all the stars of the world from Seri to Emre More, Emre More to Babel and Jimmy Durmaz. Together with our beloved professor, technical staff, all of our athletic directors, scout team and managers, we try to make our transfers within the FFP rules, licensing and configuration rules. We believe in this, doing much more than we can do with the names of all staff day and night. Galatasaray does not end the transfer, the dynamism does not end. I hope we are going confidently to the destination, to the top of the world. "
Our new transfer Stephen Nzonzi said:
I am very excited to be here. Firstly, I would like to thank the President who contributed to the transfer to Galatasaray and then everyone at the club. I think we have great goals here. I can't wait to get back to work as soon as I can. I can't wait to play in front of our fans after seeing the stadium, it's very exciting. I hope I don't miss them. A very important season for us. We will fight both in the league and in the Champions League. We will work hard and try to do good. "
[ad_2]
Source link