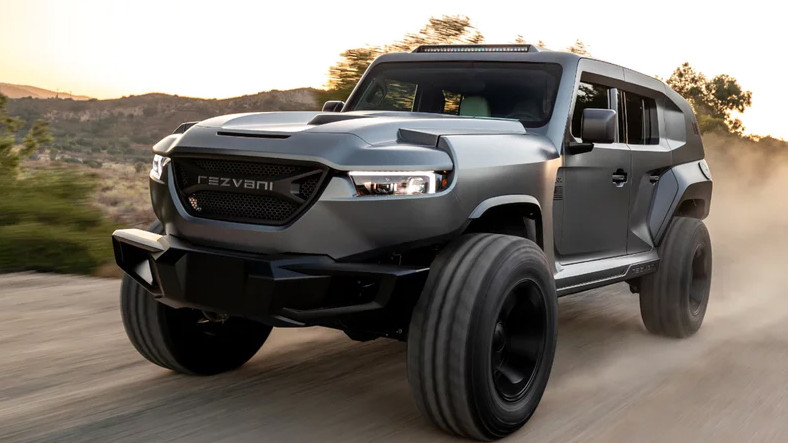 [ad_1]
The 2020 Tank X, manufactured by US-based Rezvani Motors, offers 1,000 horsepower, as well as an EMF shield that can withstand even nuclear bombs.
As a team at Webtekno, we share with you some of the launch vehicles and have outstanding features. But the car we're going to talk about now is an unprecedented SUV. Manufactured by Rezvani Motors, the Van Tank X üret is the world's first 1000 horsepower SUV.
The Rezvani Tank X not only draws attention with its powerful engine, but also with its design and safety. This SUV also manages to impress with its appearance.
Introducing Rezvani Tank X:
Before we talk about the other features of this monster, let's look at the engine structure. Rezvani Tank X has a 6.2-liter V8 engine. This engine has a power of 1000 horsepower and a torque of 1,180 Nm. This makes the Rezvani Tank X the first in the world.
Almost every Tank X feature that draws attention to power control, leaving the user's choice. If the driver wishes, he can direct his 1000 horsepower to only two wheels, and power can be sent to the four wheels under difficult conditions or in completely arbitrary situations. In addition, the tank X's suspension can be lifted up to 10 centimeters. However, if customers want to push the limits further, an upgraded version of this suspension system can also be integrated into Tank X.
Underneath the magnificent structure of the car are special systems that make the Tank X worthy of its name. The car is usually trouble-free, but if customers want to increase their security capabilities, this structure is a little more modified. After these plays, the car literally turns into a war machine and has the following features: thermal night vision, ballistic armor, sirens, bomb protection shield, integrated gas masks, impact strikes, plus an EMF shield.
At this point, the EMF shield must be fitted separately. This is due to the capabilities of this shield. EMP stands for Electromagnetic Pulse. The operation of any system subjected to electromagnetic shock is not possible, but the EMP shield of this vehicle can protect tank X even from a nuclear bomb.
Unfortunately, the interior is not as high as expected. Even now there are SUV models with much better interior design, but it seems that this monster offers at least a sufficient level of comfort, given the production purpose and features of the equipment.
With all these features, customers who want to have a Rezvani Tank X have to pay the normal version of $ 349,000 (approximately TL 2 million). However, customers who are dissatisfied with the normal version of Tank X and want to have a version with added military equipment have to pay $ 440,000 ($ 2.5 million).
$ (Function () {
// Facebook window.fbAsyncInit = function () { fb.init ({ appId: "1037724072951294", xfbml: true, version: & # 39; v2.5 & # 39; }); };
(function (d, s, id) { var js, fjs = d.getElementsByTagName (s)[0]; if (d.getElementById (id)) {return;} js = d.createElement (s); js.id = id; js.src = "http://connect.facebook.net/en_GB/sdk.js"; fjs.parentNode.insertBefore (js, fjs); } (document, & # 39; script & # 39 ;, & # 39; facebook-jssdk & # 39;));
$ ("Body"). Ten ({ click: function () { // save facebook ajax button If fb.xfbml.p (); } }, & # 39; .facebook-save & # 39;);
// share scroll if ($ (& # 39; content-sticky & # 39;). length> 0) { if ($ (window) .width ()> = 768) { $ (window) .on (& # 39; scroll & # 39 ;, function () { var scrollTop = $ (this) .scrollTop (); $ (& # 39; article & # 39;). each (function () { if (scrollTop> = ($ (this) .find (& # 39; content-body & # 39;). offset (). top - 76)) { $ (This) .find ("Content-Sticky.") AddClass ("Sticky. & # 39;); if (scrollTop> = ($ (this) .find (& # 39; content-body & # 39;). offset (). top + $ (this) .find (& # 39 ;. content-body & # 39; ). height)) (($ (this) .find (& # 39; content-sticky & # 39;). height () + 92))) { $ (This) .find ("Content-Sticky.") RemoveClass ("Sticky. & # 39;); $ (this) .find (& # 39; content-sticky & # 39;). css ({& # 39; bottom & # 39 ;: & # 39; 0px & # 39 ;, & # 39; top & # 39;: & # 39; auto & # 39;}); } else { $ (Present) .find (".Content-sticky"). AddClass ("sticky"). Css ({ & # 39; bottom & # 39 ;: & # 39; originally & # 39 ;, & # 39; Top & # 39 ;: & # 39; 76px & # 39; }); } } else { $ (this) .find (& # 39; content-sticky & # 39;). RemoveClass (& # 39; sticky & # 39;). css ({& # 39; bottom & # 39 ;: & # 39; auto & # 39 ;, & # 39; top & # 39;: & # 39; 0 & # 39;}); } }); }); } }
// shared click $ ("Body"). Ten ({ click: function () { var $ this = $ (this), dataShareType = $ this.attr (& # 39; data sharing type & # 39;), dataType = $ this.attr (& # 39; data type & # 39;), dataId = $ this.attr (& # 39; data identifier & # 39;), dataPostUrl = $ this.attr (& # 39; data-post-url & # 39;), dataTitle = $ this.attr (& # 39; data-title & # 39;), dataSef = $ this.attr (& # 39; data-safe & # 39;);
switch (dataShareType) { case of facebook: fb.u on ({ method: "share", href: dataSef, }, function (answer) { if (response &&! response.error_message) { updatehit (); } });
interruption;
case & # 39; twitter & # 39 ;: shareWindow (& # 39; https: //twitter.com/intent/tweet? via = webtext & text = & # 39; + encodeURIComponent (dataTitle) + & # 39;% E2% 96% B6 & # 39; + encodeURIComponent (dataSef )); updatehit (); interruption;
case & # 39; gplus & # 39 ;: shareWindow (& # 39; https: //plus.google.com/share? url = & # 39; + encodeURIComponent (dataSef)); updatehit (); interruption;
mail case: window.location.href = & # 39; mailto :? subject = & # 39; + encodeURIComponent (dataTitle) + & # 39; & body = & # 39; + encodeURIComponent (dataSef); // updatehit (); interruption;
case of "whatsapp": window.location.href = & # 39; whatsapp: // submit? text = & # 39; + encodeURIComponent (dataTitle) + & # 39;% E2% 96% B6 & # 39; + encodeURIComponent (dataSef); updatehit (); interruption; }
function shareWindow (URL) { window.open (URL, "_blank", "toolbar = yes, scrollbar = yes, resize = yes, top = 500, left = 500, width = 400, height = 400"); }
update functionHit () { $ .Ajax ({ type: "POST", url: dataPostUrl, data: {contentId: dataId, contentType: dataType, shareType: dataShareType}, success: function (data) {
if ($ (& # 39; video showcase & # 39;). length> 0) { var $ container = $ (& # 39; video showcase & # 39;); } else if ($ (& # 39; article)[data-id="' + dataId + '"]& # 39;). length> 0) { var $ container = $ (& # 39; article[data-id="' + dataId + '"]& # 39;); } else if ($ (& # 39;. wt-share-item)[data-id="' + dataId + '"]& # 39;). length> 0) { var $ container = $ (& # 39;. wt-share-item[data-id="' + dataId + '"]& # 39;); } else { $ container = zero; }
// var $ container = dataType == & # 39; video & # 39 ;? $ (& # 39; video showcase & # 39;): $ (& # 39; article[data-id="' + dataId + '"]& # 39;);
if ($ container! = null && $ container.length> 0) { var $ badged = $ container.find (& # 39; wt-share-badge - & # 39; + dataShareType);
var $ headerCount = $ (& # 39; content-header & # 39;). find (& # 39; wt-share-count & # 39;), $ containerCount = $ container.find (& # 39; wt-share-count & # 39;), value = parseInt ($ containerCount.html ()) + 1;
$ container.data (& # 39; share & # 39 ;, value); //$containercount.html(valu A);
if ($ headerCount.length> 0) { //$headercount.html(valu A); }
if ($ badged.length> 0 && (dataShareType == & # 39; facebook & # 39; || dataShareType == & # 39; twitter & # 39;))) { if ($ badged.hasClass (& # 39; is-visible & # 39;)) { //$badged.html(dat A); } else { //$badged.addclass('is-visible').html(dat A); } } }
} }); } } }, & # 39; .wt-share-button & # 39;) }); [ad_2]
Source link