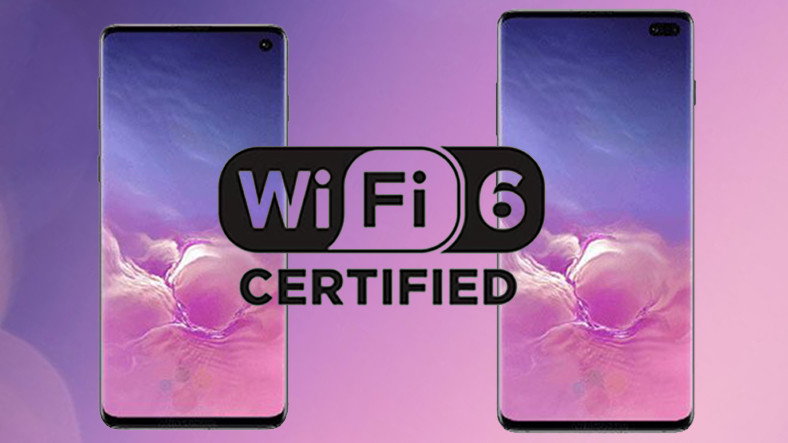 [ad_1]
The S10 will be Samsung's leading company this month and will come up with many innovations like the Infinity-O design. Wi-Fi 6 will offer a much faster connection than the new one.
The next event of the Samsung Unpacked 2019 will feature the S10 smartphone series, known as the 802.11ax Wi-Fi 6, with support. Offering a wider range and faster connectivity, Wi-Fi 6 will be available in the small, inexpensive, version of the S10E.
Samsung will be the first company to use Wi-Fi 6 to make this breakthrough. Since the Snapdragon 855 also supports the Wi-Fi standard that allows for faster connectivity, it is not difficult to assume that the company does not have much trouble.
To use the new standard routers also can not pass without saying. Although this is currently on the market routers Although the S10 is quite small, we know there are at least prospective phones.
$ (Function () {
// Facebook window.fbAsyncInit = function () { fb.init ({ appId: & # 39; 1037724072951294 & # 39 ;, xfbml: true, version: "v2.5" }); };
(function d, s, id) { var js, fjs = d.getElementsByTagName (s)[0]; if (d.getElementById (id)) {return;} js = d.createElement (s); js.id = id; js.src = "http://connect.facebook.net/en_US/sdk.js" fjs.parentNode.insertBefore (js, fjs); } (document, script & # 39 ;, facebook-jssdk & # 39;));
$ ("Points"). Ten ({ click: function () { // facebook save the ajax button If fb.xfbml.p (); } }, & # 39; .facebook-save & # 39;);
// share scroll if ($ (> content = sticky) length> 0) { if ($ (window) .width () = = 768) { $ (window) .on (& # 39; scroll & # 39 ;, function () { has scrollTop = $ (this) .scrollTop (); $ (& # 39; article & # 39;). each (function () { if (scrollTop> = ($ (this) .find (". content-body" $ (This) .find ("Content-sticky.") AddClass ("sticky."); () () .find (". content-body") .offset () - ($ (this) .find & # 39; content-sticky & # 39; height () + 92))) { $ (This) .find ("Content-sticky.") RemoveClass ("sticky."); $ (this) .find (& quot; content-sticky & quot; } else { $ (Current) .find ("Content-sticky"). AddClass ("sticky"). Css ({ "bottom": "initial", Top & # 39 ;: & # 39; 76px & # 39; }); } } else { $ (this) .find (". content-sticky") removeClass (& quot; sticky & quot;). css (& # 39; bottom & # 39;: & # 39; auto & # 39; top & # 39; 0 & # 39;}); } }); }); } }
// share click $ ("Points"). Ten ({ click: function () { var $ this = $ (this) dataShareType = $ this.attr (& quot; data-share-type & # 39;}, dataType = $ this.attr ("data type"), dataId = $ this.attr (& # 39; data-id & # 39;), dataPostUrl = $ this.attr ("data-after-url"), dataTitle = $ this.attr ("data-title"), dataSef = $ this.attr (& quot; data-head & quot;);
key (dataShareType) { case & facebook: fb.u of ({ method: sharing, href: dataSef, }, function (answer) { if (response &&! response.error_message) { updatehit (); } });
interruption;
case & twitter & # 39 ;: shareWindow (& https: //twitter.com/intent/tweet? via = webtekno & text = & # 39; + encodeURIComponent (dataTitle) + & # 39;% E2% 96% B6 & encodeURIComponent )); updatehit (); interruption;
case "gplus": shareWindow ("https://plus.google.com/share?url= & # 39; + encodeURIComponent (dataSef)); updatehit (); interruption;
case "mail": window.location.href = & # 39; mailto :? subject = & # 39; + encodeURIComponent (dataTitle) + & # 39; & body = & # 39; + encodeURIComponent (dataSef); // updatehit (); interruption;
case "whatsapp": window.location.href = & # 39; whatsapp: // send? text = & # 39; + encodeURIComponent (dataTitle) + & # 39;% E2% 96% B6 & # 39; + encodeURIComponent (dataSef); updatehit (); interruption; }
shareWindow (url) { window.open (url, "_blank", "toolbar = yes, scrollbars = yes, resize = yes, top = 500, left = 500, width = 400, height = 400"); }
function updateHit () { $ .Axax ({ type: "POST", url: dataPostUrl, data: {contentId: dataId, contentType: dataType, shareType: dataShareType}, success: function (data) {
if ($ (> showcase & # 39;) length> 0) { var $ container = $ (".video showcase"); } else if ($ (& # 39;[data-id="' + dataId + '"]& # 39; .length> 0) { var $ container = $ (& # 39;[data-id="' + dataId + '"]& # 39;); } else if ($ (& wt-share-item[data-id="' + dataId + '"]& # 39; .length> 0) { var $ container = $ (& # 39; wt-share-item[data-id="' + dataId + '"]& # 39;); } else { $ container = null; }
// var $ container = dataType == & # 39; video & # 39 ;? $ (& # 39; showcase & # 39;): $ (& # 39;[data-id="' + dataId + '"]& # 39;);
if ($ container! = null && $ container.length> 0) { var $ badged = $ container.find (& # 39; wt-share-badge - & # 39; + dataShareType);
find $ headerCount = $ (& # 39; content-header & # 39;). Find (& # 39; .wt-share-count & # 39;), $ containerCount = $ container.find (& wt-share-count & # 39;), value = parseInt ($ containerCount.html ()) + 1;
$ container.data (& quot; share & # 39;; value); //$containercount.html(value A);
if ($ headerCount.length> 0) { //$headercount.html(value A); }
if ($ badged.length> 0 && (dataShareType == & # 39; facebook & # 39; | dataShareType == & # 39; twitter & # 39;)) { if ($ badged.hasClass ("visible")) { //$badged.html(dat A); } else { //$badged.addclass('is-visible').html(dat A); } } }
} }); } } }, & # 39; .wt-share-button & # 39;) }); [ad_2]
Source link