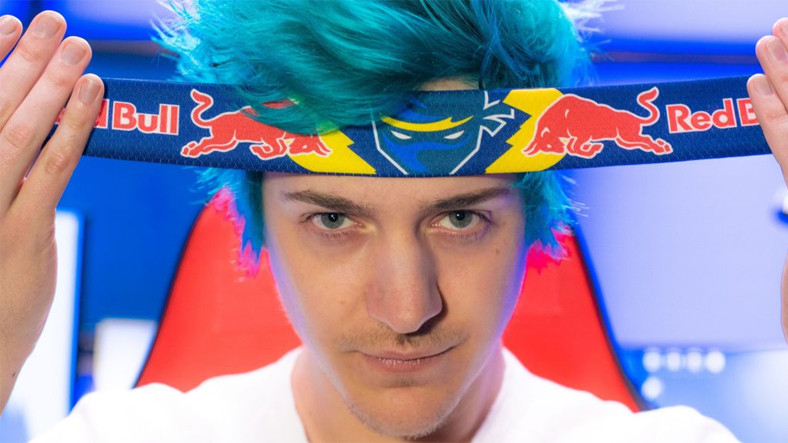 [ad_1]
Ninja, one of Twitch's leading names, made the transition to Microsoft's Mixer platform and left a big mark on the gaming industry. So why did the ninja go to the mixer?
With the development of the gaming industry, many professional players broadcast their games on live broadcast platforms. Players who make money through these publications are launching in the world and increasing competition in the game publishing sector.
Ninja is also one of the players who makes live shows and makes money. The well-known actress, who has long aired on Twitch, recently announced that Microsoft has reached an agreement with Mixer, the live streaming platform, and will continue to broadcast through Mixer.
This is very important for both Ninja and Twitch and the mixer. Amazon's Twitch live broadcast platform, with the departure of Ninja, one of the most important strongholds was lost to Microsoft. Because Ninja, along with 14 million subscribers, made a lot of money for Twitch.
Ninja is a really good player. It's even one of Fortnite's best, one of the most popular games of late. His success earned him considerable money. According to him, his monthly income is about $ 500,000 and comes from sponsorships, events and publications. However, the Ninja has repeatedly stated that he not only wants to be known as "Fortnite Guy", but wants to take his career out of Fortnite.
That's not all the ninja wanted. Recently released data, the Ninja audience is experiencing a decrease, and this reduction is also related to Fortnite's. Some broadcasters even crossed the Ninja during live broadcasts. This had a direct impact on Ninja income.
With this move, Microsoft was able to advertise its own platform and gained a very important name. The ninja leveled off her falling income and had the opportunity to move her career beyond Fortnite. The only loser was Twitch. We'll see together what the effects of Ninja's transition to the mixer will be.
Kaynak : https://www.businessinsider.com/ninja-leaving-twitch-brilliant-move-2019-8
$ (Function () {
// Facebook window.fbAsyncInit = function () { fb.init ({ appId: "1037724072951294", xfbml: true, version: & # 39; v2.5 & # 39; }); };
(function (d, s, id) { var js, fjs = d.getElementsByTagName (s)[0]; if (d.getElementById (id)) {return;} js = d.createElement (s); js.id = id; js.src = "http://connect.facebook.net/en_GB/sdk.js"; fjs.parentNode.insertBefore (js, fjs); } (document, & # 39; script & # 39 ;, & # 39; facebook-jssdk & # 39;));
$ ("Body"). Ten ({ click: function () { // save facebook ajax button If fb.xfbml.p (); } }, & # 39; .facebook-save & # 39;);
// share scroll if ($ (& # 39; content-sticky & # 39;). length> 0) { if ($ (window) .width ()> = 768) { $ (window) .on (& # 39; scroll & # 39 ;, function () { var scrollTop = $ (this) .scrollTop (); $ (& # 39; article & # 39;). each (function () { if (scrollTop> = ($ (this) .find (& # 39; content-body & # 39;). offset (). top - 76)) { $ (This) .find ("Content-Sticky.") AddClass ("Sticky. & # 39;); if (scrollTop> = ($ (this) .find (& # 39; content-body & # 39;). offset.). top + $ (this) .find (& # 39 ;. content-body & # 39; ). height () - ($ (this) .find (& # 39; content-sticky & # 39;). height () + 92))) { $ (This) .find ("Content-Sticky.") RemoveClass ("Sticky. & # 39;); $ (this) .find (& # 39; content-sticky & # 39;). css ({& # 39; bottom & # 39 ;: & # 39; 0px & # 39 ;, & # 39; top & # 39;: & # 39; auto & # 39;}); } else { $ (Present) .find (".Content-sticky"). AddClass ("sticky"). Css ({ & # 39; bottom & # 39 ;: & # 39; originally & # 39 ;, & # 39; Top & # 39 ;: & # 39; 76px & # 39; }); } } else { $ (this) .find (& # 39; content-sticky & # 39;). RemoveClass (& # 39; sticky & # 39;). css ({& # 39; bottom & # 39 ;: & # 39; auto & # 39 ;, & # 39; top & # 39;: & # 39; 0 & # 39;}); } }); }); } }
// shared click $ ("Body"). Ten ({ click: function () { var $ this = $ (this), dataShareType = $ this.attr (& # 39; data sharing type & # 39;), dataType = $ this.attr (& # 39; data type & # 39;), dataId = $ this.attr (& # 39; data identifier & # 39;), dataPostUrl = $ this.attr (& # 39; data-post-url & # 39;), dataTitle = $ this.attr (& # 39; data-title & # 39;), dataSef = $ this.attr (& # 39; data-safe & # 39;);
switch (dataShareType) { case of facebook: fb.u on ({ method: "share", href: dataSef, }, function (answer) { if (response &&! response.error_message) { updatehit (); } });
interruption;
case & # 39; twitter & # 39 ;: shareWindow (& # 39; https: //twitter.com/intent/tweet? via = webtext & text = & # 39; + encodeURIComponent (dataTitle) + & # 39;% E2% 96% B6 & # 39; + encodeURIComponent (dataSef )); updatehit (); interruption;
case & # 39; gplus & # 39 ;: shareWindow (& # 39; https: //plus.google.com/share? url = & # 39; + encodeURIComponent (dataSef)); updatehit (); interruption;
mail case: window.location.href = & # 39; mailto :? subject = & # 39; + encodeURIComponent (dataTitle) + & # 39; & body = & # 39; + encodeURIComponent (dataSef); // updatehit (); interruption;
case of "whatsapp": window.location.href = & # 39; whatsapp: // submit? text = & # 39; + encodeURIComponent (dataTitle) + & # 39;% E2% 96% B6 & # 39; + encodeURIComponent (dataSef); updatehit (); interruption; }
function shareWindow (URL) { window.open (URL, "_blank", "toolbar = yes, scrollbar = yes, resize = yes, top = 500, left = 500, width = 400, height = 400"); }
update functionHit () { $ .Ajax ({ type: "POST", url: dataPostUrl, data: {contentId: dataId, contentType: dataType, shareType: dataShareType}, success: function (data) {
if ($ (& # 39; video showcase & # 39;). length> 0) { var $ container = $ (& # 39; video showcase & # 39;); } else if ($ (& # 39; article)[data-id="' + dataId + '"]& # 39;). length> 0) { var $ container = $ (& # 39; article[data-id="' + dataId + '"]& # 39;); } else if ($ (& # 39;. wt-share-item)[data-id="' + dataId + '"]& # 39;). length> 0) { var $ container = $ (& # 39;. wt-share-item[data-id="' + dataId + '"]& # 39;); } else { $ container = zero; }
// var $ container = dataType == & # 39; video & # 39 ;? $ (& # 39; video showcase & # 39;): $ (& # 39; article[data-id="' + dataId + '"]& # 39;);
if ($ container! = null && $ container.length> 0) { var $ badged = $ container.find (& # 39; wt-share-badge - & # 39; + dataShareType);
var $ headerCount = $ (& # 39; content-header & # 39;). find (& # 39; wt-share-count & # 39;), $ containerCount = $ container.find (& # 39; wt-share-count & # 39;), value = parseInt ($ containerCount.html ()) + 1;
$ container.data (& # 39; share & # 39 ;, value); //$containercount.html(valu A);
if ($ headerCount.length> 0) { //$headercount.html(valu A); }
if ($ badged.length> 0 && (dataShareType == & # 39; facebook & # 39; || dataShareType == & # 39; twitter & # 39;))) { if ($ badged.hasClass (& # 39; is-visible & # 39;)) { //$badged.html(dat A); } else { //$badged.addclass('is-visible').html(dat A); } } }
} }); } } }, & # 39; .wt-share-button & # 39;) }); [ad_2]
Source link