Al-Sheikh is the best Arab figure, Al-Souwalim and Al-Assiri in the list
The winners of the Mohammed bin Rashid Award for Sports Innovation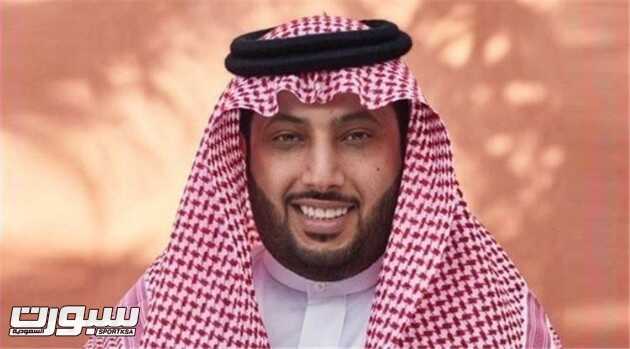 President of the Saudi Olympic Committee, President of the Arab Sports Federation of Islamic Solidarity, Turki al-Sheikh, President of Saudi Arabia, won the Arab Sports Personality Award, organized by the Council of Trustees of the Muhammad Bin Rashid al Maktoumu Trust Award for Sports Creativity. Al Maktoum International "
Turki Al Sheikh has launched several initiatives that have contributed to the development of Saudi Arabia's sports system, attracting and organizing international and international sporting events, and developing the Arab sports system and supporting the efforts of many Arab countries to strengthen their relations with international sports organizations. Al Sheik developed the system of the championship of Arab football clubs and launched the first edition of the Zayed Cup.
Dr. Mubarak Al Sayilm, AFC President, also won the Arab Management Award for his efforts to develop and unite the Asian Games through his prestigious presidency at the Asian Olympic Council.
Mohammed al-Assiri won the Arab Sports Award, which has achieved outstanding success among 4 other athletes for winning a gold medal in karate at the Youth Olympics 2018. He is the first Arab athlete to win the gold medal in karate from the history of Arab youth competitions .
The other awards were: Haldon Khalifa Al Mubarak for the local sports staff prize
Egyptian star Mohammed Salah "Arab sports"
Mohamed Ahmed Al-Balushi (Local Sports Award)
Nasser Abdul Razzak Al Marzouci and Osama Ahmed Al Shafar (Local Management Award)
Referees of the 2018 World Cup are Mohamed Abdullah Hassan, Mohammed Youssef Al Hammadi and Hasan Mohammed Al Mahri (local team award)
General Command of the Police in Dubai (Local Enterprise)
Mohamed Ihab Youssef of the Republic of Egypt (Arab Sports Award)
Nadia Abdelhamid Abdelhafeez from the Republic of Egypt (Arab Bus Award)
Egyptian Squash Men's Team (Arab Team Award)
International Wrestling Federation (International Foundation Award / International Summer Federation)
Japanese Paralympic Committee (Global Foundation / National Paralympic Committee Award)
The local young athlete achieved exceptional successes in the field of sport:
1 – Balkis Abdul Karim Abdullah for the World Cup of Gold Medal in Yudjitsu – 2017
2 – Fatima Salem Haseyf for his gold medal at the Asian karate championship for young men and women in an individual comet competition weighing over 54 kg for 2018
3 – Ahmad Fasal Al Nakbe, for winning the Junior Judo Cup AFC Junior weighing 50 kg in 2018.
4 – Lamia Tariq Mal Allah, to win a gold medal at the International Gymnastics Championship – Greece 2018, and a silver medal in Germany – 2017
5 – Omran Ahmed Al-Hosani, to win a gold medal "Western Asia" Classic Chess, a Gold Medal in Quick Chess and a Silver Medal for the Scout of the Captor in 2018
6 – Abdullah Khalil Mensuri for winning the gold and bronze medals in the Arabian Championship for Aerobic Degrees – 2018
The Arab athlete has achieved outstanding success in the field of sport:
The award was awarded to four young Arab athletes:
Ahmed Osama El-Gendi, Egypt, to win a gold medal at the five-year Olympic Games for Youth 2018,
2-Mohammed Ayed al-Assiri, Saudi Arabia, to win a gold medal in karate at the 2018 Youth Olympic Games,
Fatima Al-Zahra, Kingdom of Morocco, for her gold medal in Taekwondo in 2018 Olympic Youth Games,
4- Omar Al Marzuki, UAE, to win the silver medal in equestrian sport in 2018 Olympic Youth Jump Championships,
Athlete Achieved high-level achievement:
1 – Saleh Al-Madri – Tunis, is one of the best and most successful Arabic players in the history of Arab basketball,
Athlete Achievement achieved in difficult circumstances and challenges (category of stakeholders):
The prize was awarded equally to two athletes:
Abdulnur Fadini – Kingdom of Morocco, second in the seventh world championship of Barayekondo 2017.
Ahmed Mubarak Al Mutawe, the UAE, won 6 gold and silver medals in cycling during its international tournaments.
For his part, H.P. Mattar Al Tayer, Vice President of the Sporting Council of Dubai, Chairman of the Board of the Prize, revealed figures from the 10th edition. "The prize has continued to grow and continues to spread and increase its influence thanks to the patronage and support of the prize-winner, the president of the Trust's Trusteeship, and the efforts of all the Arab states that we have seen from the interaction between sports federations and international organizations, as evidenced by the number of candidates that increased up to 353 files, an increase of 19% compared to the previous session, which involved 297, 87 files per session The number of sophisticated Arabian files increased to 241 showers , from 184 in the previous session, with an increase of 31%, but we did not miss the appreciation of the achievements of the Arab youth among the achievements of the Youth Olympic Games in Argentina, which was achieved beyond the nominal period set by September 1, 2017 to August 31 2018, where they were chosen to gain recognition within the rated categories.