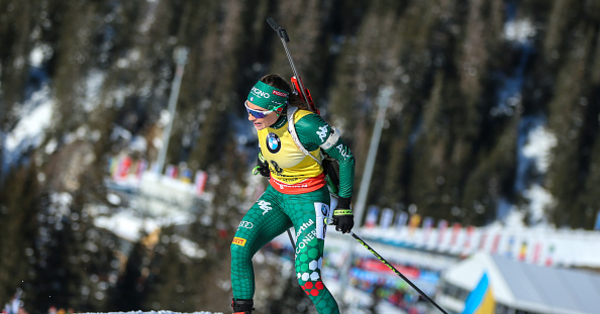 On January 26th in Antholz, Italy, the sixth stage of the World Biathlon Cup continued.
World Cup World Cup leader Dorothea Virer held one of the best races of the season. After allowing a rally in the first corner, the Italian was going perfectly with two shots and in the fourth round he was leading instead of his compatriot and main rival in the fight for the big crystal globe Lisa Vittotza.
The decisive factor in the last shooting was the degree of fire in Virer. She shot a few seconds faster than Vitotzky and went alone to the criminal line. Lisa hurried over Dorothea and dropped the stick on the carpet, losing a few more seconds. German Laura Dalmaier took advantage of the situation: the two-time Olympic champion, unlike the Italians, closed all targets on the last limit and went to the third lap just behind Vitosha.
Virer, after the fourth row, had an advantage of 7 seconds, but immediately broke away from his pursuers and confidently finished first, winning a debut victory in 2019. And Dalmeier, who lost consciousness after the final two days earlier, managed to recover and won the fight for silver without any problems. Just miracles!
Only Anastasia Merkushina presented Ukraine in women's clothing. Valya Semerenko could start under the last, 60th number, but it did not start. Merkushina held one of the worst races in terms of shooting accuracy and finished in 35th place, winning six more points in the World Cup standings. In order to qualify for the mass start, you have to imagine much better.
Tomorrow, on January 27, no woman from Ukraine will take part in the women's race from the mass start for the second time in a row.
Results of competitions:
1.

Dorothea Vier (1 + 0 + 0 + 1) 29: 20.1
2.

Laura Dalmaier (0 + 0 + 1 + 0) +6.0
3.

Liza Vitoi (1 + 0 + 0 + 1) +16.2
…
35.

Anastasia Merkushina (1 + 2 + 0 + 2) +3: 31.3
I did not start

Valeria Semerenko
Biathlon season 2018/19: schedule, announcements, broadcast, results
If you find an error, please select the snippet of the text and press Ctrl + Enter.