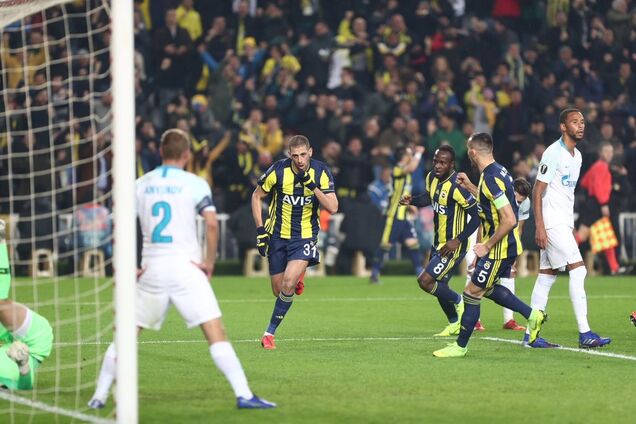 St. Petersburg "Zenit" lost Fenerbahce on the way in the match 1/16 finals of the European League with a score of 1: 0. The Ukrainian newcomer in the Russian club Jaroslav Rakitski entered the starting lineup and in the 5th minute received a yellow.
The Turkish team dominated the field before the break and led in the middle of the first half. After giving an angular ball from the back of a player, Zenit bounced back to Slimani, who shoved the projectile into the opponent's door net.
The guests had an excellent chance of losing the score, but Mac from the 11-meter mark did not beat the goalie.
In the second half, Zenith managed to move the game from its gates but failed to score a goal on the road.
The match of Zenit and Fenerbahce will be held on 21 February in St. Petersburg. The beginning of the meeting – at 19:55.
Fenerbahce Turkey – Zenit Russia 1: 0
purpose: 1: 0 – 21 Slimans.
"Fenerbahce" – Tekin, Ciftpunar, Kaldyrim, Isla, Skrtel, Jailson, Moses (Potok, 84), Valbuena (Neustedter, 90), Topal, Elmaz (Ay, 72), Slimani.
"Zenith" – Lunev, Ivanovich, Nabiulin (Smolnikov, 61), Anjukov, Rakitski, Mak (Marquis, 85), Barrios, Kraneviter, Ernani, Drusi (Azun, 74).
warnings: Rakitsky (5), Isla (14), Chiftpynar (31), Anyukov (40), Mack (68).
As OBOZREVATEL reported, fans of the Russian Zenit attacked Turkey before the Europa League match against Fenerbahce. Ultras from the Turkish club attacked the bus with fans of their rivals.
Do not you still read our Telegram? And in vain! subscribe