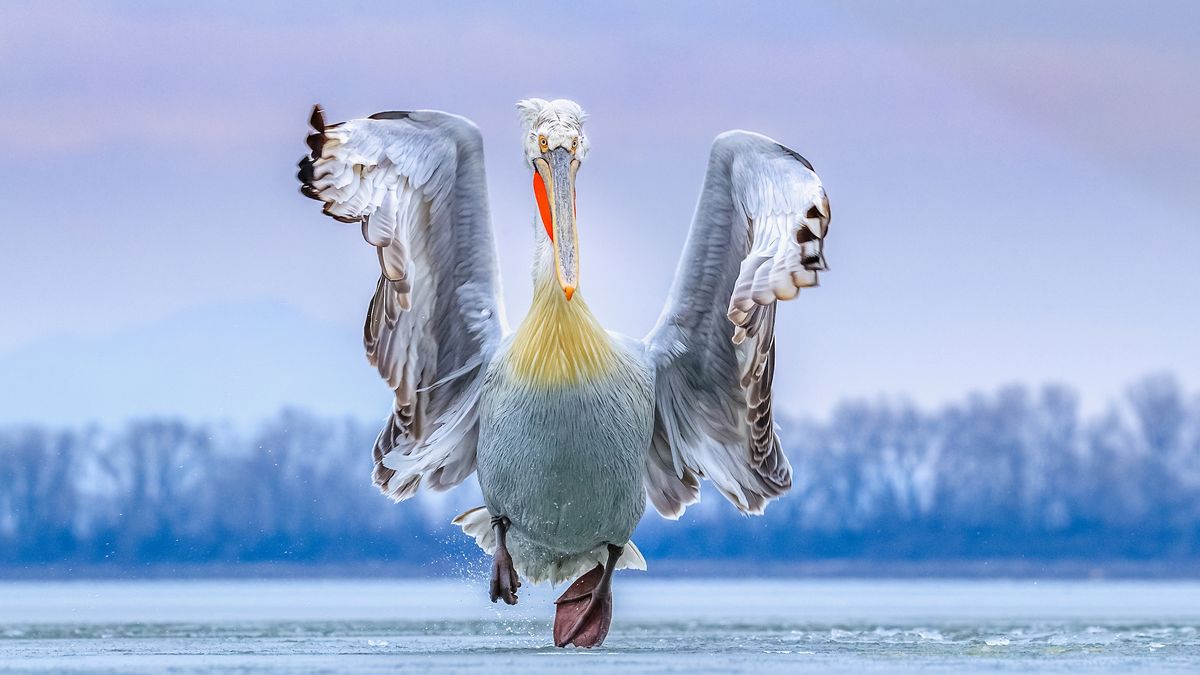 [ad_1]
The winners of the latest Bird Photographer of the Year contest have been announced, and let's just say that if you were hoping for some spectacular bird shots that wouldn't be disappointed, you wouldn't be disappointed.
The well-deserved winning image (above) is of a Dalmatian pelican, filmed on a frozen Kerkini lake in Greece, entitled "Dancing on Ice". It was shot by UK-based Karen Steele, who won the grand prize of £ 5,000 and the title '2019 Bird Photographer of the Year'.
"I can't tell you how happy I am to be the winner of this fabulous race," Karen says. "I only took photography seriously in 2014 when I got my first DSLR and have been in a sharp learning curve ever since. I did a degree in zoology at Oxford University, but then went on to do other things. Now I love being able to back to nature and see things through the perspective of my camera.
BPOTY Director and Race Organizer Rob Read the comment on the photo, "Dancing on Ice" is an image that made me jump out of my chair with joy the moment I saw it appear on my computer screen. Too often judges see images where photographers have great photographic capabilities that they fail to maximize. Lake Kerkini rarely freezes and Caron certainly seizes on this virtually unique opportunity. "
• Read more: The best portable skins for wildlife photography
Image 1 of 6
Image 2 of 6
Image 3 of 6
Image 4 of 6
Image 5 of 6
Image 6 of 6
Steele's image, however, was not the only shot that impressed the judges. Germany's Thomas Hinsche won the 2019 Best Portfolio Award for his six images (see gallery above), receiving the Olympus OM-D E-M1 MKII and M.Zuiko 300mm f / 4 IS PRO lens (combined value) 3500 pounds).
If you are an avid bird photographer looking to compete next year, entries will open on August 18 and close on November 30, 2019. With prizes worth over £ 20,000, you will have the chance to win binoculars from Swarovski Optik, Olympus camera system, Gitzo tripod heads and a grand prize of £ 5,000.
Rob Reid says: "We now have a new website that will become a useful resource for photographers, birds, conservationists and wildlife enthusiasts focused on the competition itself.
"The basic principles of promoting bird photography and the photographers themselves, while helping to safeguard through money collection and awareness, remain the foundation of BPOTY. The new website will help us achieve these goals by using some of the best bird imagery in the world to inspire people to care. "
This year, the race raised money for the Hookpod, an innovative solution that has the potential to eliminate the unnecessary deaths of albatrosses and other seabirds killed by longline fishing. The competition in 2020 will create a BPOTY Conservation Fund that will enable BPOTY to support other conservation projects such as the Hookpod.
If you want to see more of the images you have won, check out next year's contest or purchase a racing book (RRP £ 25), check out Bird Photographer on the website of the year.
Read more
Best 150-600mm lenses
Canon's Best Photo Lenses in 2019
Bird Photography: Tips for getting great bird photos in flight
Best budget telephoto lenses in 2019
[ad_2]
Source link