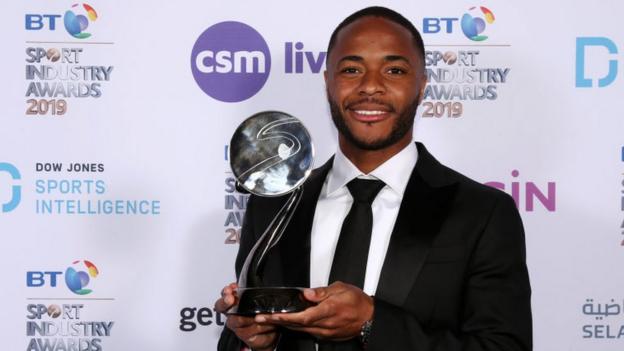 Manchester City's Rahim Sterling said he hopes to give an example to younger players as he receives a reward for his position against racism in football.
The striker of England criticized the presentation of black players' newspapers and wants tougher punishments for fans who racially abuse players.
On Thursday he was awarded the BT Sport Industry Awards.
"When the next generation comes, you have to give an example," said the 24-year-old.
"In Liverpool I had people around me like Steven Gerrard. I looked at him. I looked at him and thought what I could do in order to be half the face and the player.
"You take small things and every year you try to develop not only on the pitch but also outside.
"I just talked about my personal experiences, I did not expect to receive so much attention.
"I just wanted to bring it to the attention of my audience at Instagram, and I really enjoyed seeing people listening and trying to do better."
English manager Garrett Southgate presented the award and said Sterling's actions "had a tremendous impact on British society."
"I've been working with Rahim for about five years, and I've seen his maturity as a man who's wonderful to watch," Southgate said.
"It's about his personal improvement, his improvement on the pitch and his recognition that he can change things, it's getting stronger over the past six months, and it has a huge impact on the British society that I think."
Stirling suffered from racist misconduct by Chelsea fans during City defeat by Stamford Bridge 2-0 in December, leading to a post at Instagram in which he questioned the black players' presentation in the newspapers.
In January it became clear that he wrote a letter to a young city fan who was racially abused, urging the supporter to "stand tall, do not let them take courage."
He was also racially abused during the European Championship qualifier in Montenegro in March, along with international teammates Danny Rose and Khalid Hudson-Odoy.
Earlier in April, he was hailed as an "iconic British sports star" and a "pilot" after being named the athlete of the Year of the British Sports Awards for Ethnic Diversity.