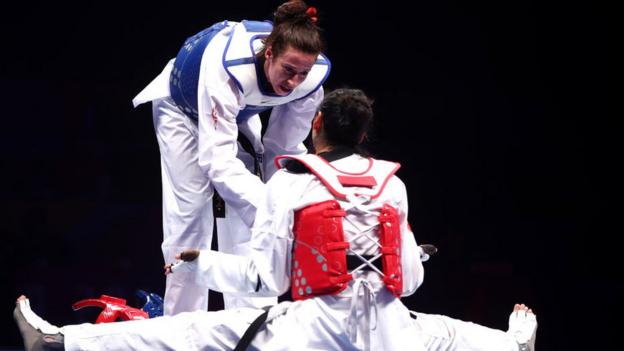 Bianca Walden has secured her third consecutive World Taekwondo title after a controversial final at the Women's Finals in Manchester.
Walden reached 20-10 in the final stage against Chinese Shuien Zheng, but the Olympic champion was forced to make a series of penalties and disqualified.
"It's not how I wanted to go, but victory is a victory," Walden told BBC Sport.
Bradly Sinden became the first male taekwondo world champion in GB with a win of the -68 kg final.
Double Olympic Champion Jade Jones stays on the course to win the first world title in his career after reaching the -57 kg final with an 18-12 victory over Canadian Skylare Park.
Booing drowned all cheers from British fans as Walkden was named the winner of the women's heavyweight final and Zheng refused to admit the Briton victory before sensationally collapsing on the podium and leaving the racing zone in tears.
"It was obviously not good [to hear the boos], but I never gave up and would die there fighting for the victory I think is shown, Walden said.
"I did what I needed and now I'm a three-time world champion who can not take me away."
Walden, who is now the most successful wrestler at the UK World Cup, overshadows the two titles earned by retired Sara Stevenson in 2001 and 2011.
And they have joined as world champion of Sinden.
The 20-year-old, who won bronze at the last World Cup when he was only 18 years old, eliminated the defense champion South Korea's Dae-hoon Lee in the semi-finals on Thursday.
As a result, he was a favorite against Javier Perez Polo, but the Spanish fighter made him repel him with a victory of 24-21.
"We are all so proud of what the women of GB have achieved because we are a team, but I'm happy to do it for the boys," he told BBC Sport.
"It's amazing, a dream come true and we hope the next will be Olympic gold."
In addition to Jones' final – 57kg, the European gold medalist Lauren Williams and the world bronze medalist from 2017 Daeman Sansum will start the auction for honors on the fourth day of the championship.
Source link