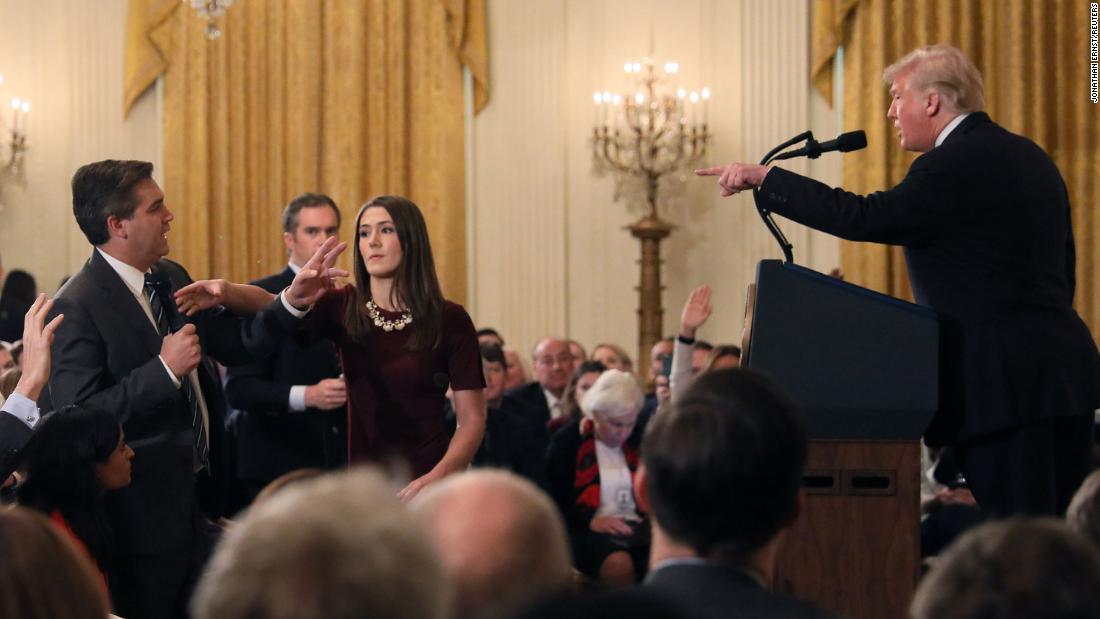 CNN said the revocation "was carried out in retaliation for his challenging questions at a press conference today. In an explanation, Press Secretary Sarah Sanders lied. She gave a false accusation and mentioned an incident that never happened. This unprecedented decision was a threat to democracy and this country deserves better. Jim Acosta has our full support. "
At 7pm on Wednesday, Acosta stops at the gate of the Pennsylvania Avenue in the White House where reporters usually enter. He headed to the White House for live shows on "Anderson Cooper 360."
"I was just refused entry to the WH," acosta tweeted. "The Secret Service just told me I couldn't enter the WH page for 8 o'clock at night."
Acosta posted a video of the Secret Service officer who released his operation.
"I was only told to do it," the official said on the tape.
"I now give my hard pass to the Secret Service," said Acosta.
Journalists who regularly cover the White House are routinely given a "hard pass" to facilitate entry and exit to the White House yard. It is not clear whether Acosta will be given another kind of entry for his work. But on Wednesday night, he turned at the gate.
This action by the White House is a sharp escalation of tension between the Trump administration and CNN. This immediately stirred concerns in the White House press corps.
Peter Baker, White House correspondent for The New York Times, said on Twitter, "This is something I've never seen since I started covering the White House in 1996. Other presidents aren't afraid of difficult questions."
The White House Correspondent Association, which advocates on behalf of the press corps, is expected to issue a statement later Wednesday night.
Acosta has become one of the most aggressive reporters to Trump's beat, winning many fans but also a large number of critics.
During a press conference on Wednesday, many people on social media thanked Acosta for trying to hold the president accountable for his words and actions.
But others condemned the correspondent. Some triggers Trump said that his credibility must be revoked. And pro-Trump media outlets have published news stating that Acosta has persecuted White House aides who tried to take microphones from him at a press conference.
Sanders repeated this statement in his statement.
"President Trump believes in a free press and expects and welcomes difficult questions from him and his government," he said. "We will, however, never tolerate reporters placing their hands on a young woman just trying to do her job as a White House apprentice. This behavior is truly unacceptable."
CNN producer Allie Malloy responded to Sanders via Twitter: "This is really a lie. The woman grabbed Jim's arm repeatedly. He never once touched him. Even at one point @Acosta told him politely & # 39; forgive me, mother & # 39; because he whipped his arm. "
Acosta also tweeted that Sanders' description of the incident was "a lie".
At a press conference, the president yelled at the press corps, called "rude" journalists to ask questions, and make baseless claims about political voting.
"It's like a hostile media. It's very sad," he said, maintaining his long campaign for years against the people who protected him.
Trump's most controversial argument is with Acosta. Immediately after, CNN said in a statement, "The President's ongoing attacks on the press are too far away. They are not only dangerous, they also disturb America."
"When President Trump explained that he did not respect the free press, he had an obligation to swear to protect him," CNN added. "Free press is very important for democracy, and we stand behind Jim Acosta and his fellow journalists everywhere."
The press conference is shown directly on CNN and all cable news channels and other broadcast networks. Media critics and Democrats say that Trump's aggressive actions – which say reporters to "sit down" and insult some of them – might be part of a strategy to divert attention from the Democratic victory in the midterm.
"Trump wants to make his story vs. the media not he gets his ass kicked in the House. This press conference plays right into that narrative," said former Obama aide Tommy Vietor.
Acosta is one of the first reporters called Trump. "Thank you, Mr. President," he said. "I want to challenge you in one of the statements you made at the back end of the campaign."
Trump leaned back into the mic and said "here we go," apparently enjoying a confrontation.
Acosta raised migrants who traveled from Central America to the southern US border, and racist advertisements referring to them that the Trump campaign was released last week.
"As you know, Mr. President, the caravan is not an invasion," said Acosta. "This is a group of migrants moving from Central America to the border with the US–"
Trump, sarcastically, replied, "Thank you for telling me, I appreciate it."
Acosta: "Why do you characterize it like that?"
"Because I consider it an invasion. You and I have differences of opinion."
"But do you think you persecute immigrants?"
"No, not at all. I want them to come to this country. But they have to come legally."
That's what migrants try to do – they say they intend to seek asylum.
Acosta called the misleading ad and said, "They are hundreds of miles away. They are hundreds and hundreds of miles away. It is not an invasion."
"Do you know what? I think it should be," Trump said, pointing to Acosta. "To be honest, I think you should let me run the country. You run CNN. And if you do it well, your ranking will be much better."
"Okay, that's enough," Trump said when Acosta tried to ask another question.
A White House staff rushed to take the microphone and took it to the next journalist chosen by Trump, Peter Alexander from NBC.
"If I can ask another question, are you worried–"
Acosta tried to show that other journalists had also asked many questions.
"That's enough," Trump said.
White House staff tried to grab the microphone from Acosta, but he held it.
"I'm sorry, Ma'am," he said, looking at Trump, then disappearing from the camera's view.
"Peter, let's go," Trump said, trying to move to Alexander.
"If I can ask, on a Russian investigation," said Acosta, "are you worried that you might have the charges down–"
"I don't care about anything with Russian investigations because it's a hoax," Trump said, "That's enough, put the microphone."
Trump retreated from the podium for a moment, indicating he was finished, while Acosta asked a question again and then let go of the mic.
While Alexander began asking his questions, Trump said, "I tell you what, CNN should be ashamed of itself, after you work for them." He pointed at Acosta. "You are rude, a terrible person. You should not work for CNN."
Then he turned to Alexander: "Please." But he turned his focus back to Acosta: "You're a very rude person, the way you treat Sarah Huckabee Sanders is terrible. The way you treat other people is terrible. You shouldn't treat people like that."
"Please," Trump said to Alexander, who spoke at the Acosta defense: "I've traveled with him and watched him, he's a diligent reporter, who hurts his butt like all of us."
"Well, I'm also not your big fan, to be honest," Trump said, pushing laughter in the room. He underestimated NBC almost as often as CNN.
"So, let me ask you a question," Alexander said, without hesitation.
Acosta stood up and spoke. His comments were not fully heard on live TV broadcasts, but Acosta could be heard asking about the dangers of Trump's anti-media attacks, such as the use of the term "enemy of the people".
"When you report false news, which CNN does, many, you are the enemy of the people," Trump said, returning to Alexander.
The press conference lasts 1 hour and 26 minutes.
Trump's treatment of the press varies from one minute to the next. As at the previous press conference, he showed humiliation to one-minute reporters, complaining about the question "jumping out of their seats screaming questions at me," then suggesting he enjoy going back and forth.
"Should we do this for a while?" he asked, one hour into the session, encouraging some reporters to say "yes!"
When a reporter from a Japanese news outlet asked a question, Trump said, "greet Shinzo," referring to Japanese Prime Minister Shinzo Abe.
The press conference really relieved the various styles of various White House correspondents. Some, like April Ryan, tried asking questions without being explicitly called.
"Please sit down," Trump said to him. "Sit down. I didn't call you, I didn't call you, I didn't call you."
Ryan tried to ask about the issue of voter pressure. In response, Trump by falsely said that the CNN poll was a form of oppression.
Trump often condemns what is called "polling polls," alluding to conspiracy theories that claim news outlets distort the results of the vote to prevent people from voting. He raised the idea again at a press conference later, despite the lack of evidence for the idea.
Towards the end of the presser, Yamiche Alcindor, the correspondent for PBS "NewsHour," Trump asked about the shared view that Trump's rhetoric had encouraged white nationalists.
"That's a racist question," Trump said repeatedly.
Social media beamed with anger about Trump's reluctance. Alcindor, who is black, moved. He tweeted later: "I was followed up by the president calling my question" racist "with a policy question about the proposed middle class tax cuts because that is what journalists do. We urge. We focus on the privilege of asking questions to make a living.
Source link