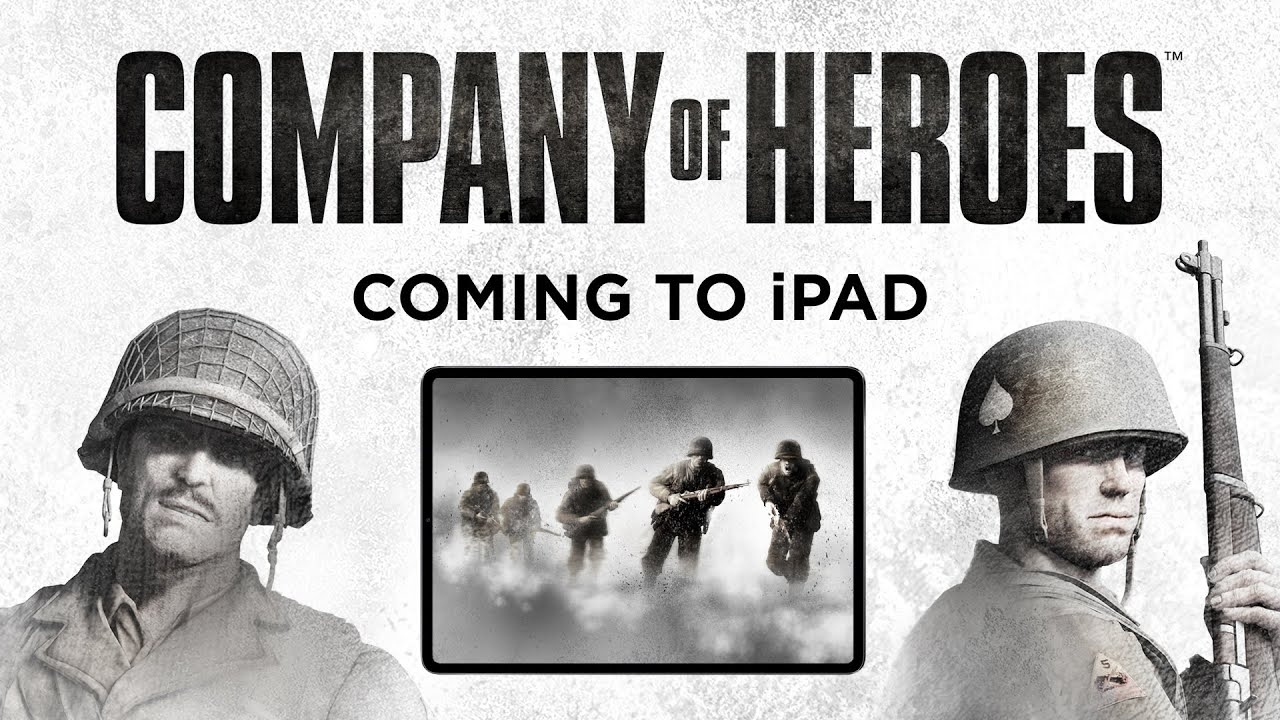 The Relic video game has been redesigned to work on touch screens.
At the end of 2019, we will have the opportunity to enjoy the fantastic company of iPad characters, a real-time video game with which Relic Entertainment surprise PC players by far in 2006. Computer hardware is responsible for adapting it to iOS devices Feral Interactivewho are already experts in these leaders.
"The company of heroes was Handcrafted and tablet optimized with a new, sophisticated and intuitive user interface designed to execute real-time tactics, adapt to changes in scenarios and, in the latter case, overcome the fierce resistance the player encounters when releasing France, "the official press release said.
From Now confirm that this is a premium video game, without internal purchases, although the price at which it was offered for sale has not yet been specified. We have a short preview in the video, which, of course, does not include game sequences that allow us to preview the new user interface. We have to wait to hear more news about the Company of Heroes jump on the iPad.
More for: Company of Heroes,
var adUnits = [{'bids': [{'bidder': 'appnexus', 'params': {'placementId': '15051556', 'reserve': 0.5}}, {'bidder': 'rubicon', 'params': {'accountId': '11188', 'floor': 0.5, 'siteId': '240426', 'zoneId': '1205974'}}, {'bidder': 'criteo', 'params': {'zoneId': '1388788'}}, {'bidder': 'smartadserver', 'params': {'bidfloor': 0.5, 'domain': '//prg.smartadserver.com', 'formatId': '73987', 'pageId': '1045638', 'siteId': '285283'}}, {'bidder': 'ix', 'params': {'siteId': '345900', 'size': [970, 250]}}, {'bidder': 'ix', 'params': {'siteId': '345900', 'size': [980, 90]}}, {'bidder': 'ix', 'params': {'siteId': '345900', 'size': [970, 90]}}], 'code': 'dfp-masthead', 'mediaTypes': {'banner': {'sizes': [[970, 250], [980, 90], [970, 90]]}}}, {'bids': [{'bidder': 'appnexus', 'params': {'placementId': '15051576', 'reserve': 0.5}}, {'bidder': 'rubicon', 'params': {'accountId': '11188', 'floor': 0.5, 'siteId': '240426', 'zoneId': '1205976'}}, {'bidder': 'criteo', 'params': {'zoneId': '1388792'}}, {'bidder': 'smartadserver', 'params': {'bidfloor': 0.5, 'domain': '//prg.smartadserver.com', 'formatId': '73988', 'pageId': '1045638', 'siteId': '285283'}}, {'bidder': 'ix', 'params': {'siteId': '345901', 'size': [300, 600]}}, {'bidder': 'ix', 'params': {'siteId': '345901', 'size': [300, 250]}}, {'bidder': 'ix', 'params': {'siteId': '345901', 'size': [300, 300]}}, {'bidder': 'ix', 'params': {'siteId': '345901', 'size': [300, 100]}}], 'code': 'dfp-atf', 'mediaTypes': {'banner': {'sizes': [[300, 600], [300, 250], [300, 300], [300, 100]]}}}, {'bids': [{'bidder': 'appnexus', 'params': {'placementId': '15051597', 'reserve': 0.4}}, {'bidder': 'rubicon', 'params': {'accountId': '11188', 'floor': 0.4, 'siteId': '240426', 'zoneId': '1205978'}}, {'bidder': 'criteo', 'params': {'zoneId': '1388791'}}, {'bidder': 'smartadserver', 'params': {'bidfloor': 0.4, 'domain': '//prg.smartadserver.com', 'formatId': '73989', 'pageId': '1045638', 'siteId': '285283'}}, {'bidder': 'ix', 'params': {'siteId': '345902', 'size': [300, 600]}}, {'bidder': 'ix', 'params': {'siteId': '345902', 'size': [300, 250]}}, {'bidder': 'ix', 'params': {'siteId': '345902', 'size': [300, 300]}}, {'bidder': 'ix', 'params': {'siteId': '345902', 'size': [300, 100]}}], 'code': 'dfp-mtf', 'mediaTypes': {'banner': {'sizes': [[300, 600], [300, 250], [300, 300], [300, 100]]}}}, {'bids': [{'bidder': 'appnexus', 'params': {'placementId': '15051735', 'reserve': 0.3}}, {'bidder': 'rubicon', 'params': {'accountId': '11188', 'floor': 0.3, 'siteId': '240426', 'zoneId': '1206008'}}, {'bidder': 'criteo', 'params': {'zoneId': '1388790'}}, {'bidder': 'smartadserver', 'params': {'bidfloor': 0.3, 'domain': '//prg.smartadserver.com', 'formatId': '73990', 'pageId': '1045638', 'siteId': '285283'}}, {'bidder': 'ix', 'params': {'siteId': '345903', 'size': [300, 600]}}, {'bidder': 'ix', 'params': {'siteId': '345903', 'size': [300, 250]}}, {'bidder': 'ix', 'params': {'siteId': '345903', 'size': [300, 300]}}, {'bidder': 'ix', 'params': {'siteId': '345903', 'size': [300, 100]}}], 'code': 'dfp-btf', 'mediaTypes': {'banner': {'sizes': [[300, 600], [300, 250], [300, 300], [300, 100]]}}}, {'bids': [{'bidder': 'appnexus', 'params': {'placementId': '15051756', 'reserve': 0.2}}, {'bidder': 'rubicon', 'params': {'accountId': '11188', 'floor': 0.2, 'siteId': '240426', 'zoneId': '1206014'}}, {'bidder': 'criteo', 'params': {'zoneId': '1388796'}}, {'bidder': 'smartadserver', 'params': {'bidfloor': 0.2, 'domain': '//prg.smartadserver.com', 'formatId': '75104', 'pageId': '1045638', 'siteId': '285283'}}, {'bidder': 'ix', 'params': {'siteId': '345904', 'size': [980, 90]}}, {'bidder': 'ix', 'params': {'siteId': '345904', 'size': [970, 90]}}, {'bidder': 'ix', 'params': {'siteId': '345904', 'size': [728, 90]}}], 'code': 'dfp-footer', 'mediaTypes': {'banner': {'sizes': [[980, 90], [970, 90], [728, 90]]}}}] var PREBID_TIMEOUT = 2000; var pbjs = pbjs || {}; pbjs.que = pbjs.que || [];
pbjs.bidderSettings = { rubicon: { bidCpmAdjustment : function(bidCpm) { return 0.82 * bidCpm; } }, aol: { bidCpmAdjustment : function(bidCpm) { return 0.80 * bidCpm; } }, smartadserver: { bidCpmAdjustment : function(bidCpm) { return 0.85 * bidCpm; } } };
pbjs.que.push(function() { pbjs.setConfig({ priceGranularity: 'dense' }); });
// amazon !function(a9,a,p,s,t,A,g){if(a[a9])return;function q(c,r){a[a9]._Q.push([c,r])}a[a9]={init:function(){q('i',arguments)},fetchBids:function(){q('f',arguments)},setDisplayBids:function(){},targetingKeys:function(){return[]},_Q:[]};A=p.createElement(s);A.async=!0;A.src=t;g=p.getElementsByTagName(s)[0];g.parentNode.insertBefore(A,g)}('apstag',window,document,'script','//c.amazon-adsystem.com/aax2/apstag.js');
// initialize apstag and have apstag set bids on the googletag slots when they are returned to the page apstag.init({ pubID: '3500', adServer: 'googletag', bidTimeout: 2e3 });
// request the bids for the four googletag slots var apstagSlots = [ { slotID: 'dfp-masthead', slotName: '/241667871/3DJuegos/homepage/news', sizes: [[1,1], [728,90], [1008,350], [970,250], [980,250], [980,90], [2,1]] },{ slotID: 'dfp-atf', slotName: '/241667871/3DJuegos/homepage/news', sizes: [[300,250], [300,600]] },{ slotID: 'dfp-mtf', slotName: '/241667871/3DJuegos/homepage/news', sizes: [[300,250], [300,600]] },{ slotID: 'dfp-btf', slotName: '/241667871/3DJuegos/homepage/news', sizes: [[300,250], [300,600]] },{ slotID: 'dfp-footer', slotName: '/241667871/3DJuegos/homepage/news', sizes: [[980,90], [970,90], [728,90]] } ];
var bidders = ['a9', 'prebid']; var requestManager = { adserverRequestSent: false, }; bidders.forEach(function(bidder) { requestManager[bidder] = false; }) function _getGPTSlots(apstagSlots) { var slotIDs = apstagSlots.map(function(slot) { return slot.slotID; }); return googletag.pubads().getSlots().filter(function(slot) { return slotIDs.indexOf(slot.getSlotElementId()) > -1; }); } function allBiddersBack() { var allBiddersBack = bidders .map(function(bidder) { return requestManager[bidder]; }) .filter(Boolean) .length === bidders.length; return allBiddersBack; } function headerBidderBack(bidder) { if (requestManager.adserverRequestSent === true) { return; } if (bidder === 'a9') { requestManager.a9 = true; } else if (bidder === 'prebid') { requestManager.prebid = true; } if (allBiddersBack()) { sendAdserverRequest(); } } function sendAdserverRequest() { if (requestManager.adserverRequestSent === true) { return; } requestManager.adserverRequestSent = true; pbjs.adserverRequestSent = true; requestManager.sendAdserverRequest = true; googletag.cmd.push(function() { apstag.setDisplayBids(); pbjs.setTargetingForGPTAsync(); googletag.pubads().refresh(); }); } function requestBids(apstagSlots, adUnits, bidTimeout) { apstag.fetchBids({ slots: apstagSlots, timeout: bidTimeout }, function(bids) { headerBidderBack('a9'); });
pbjs.que.push(function() { pbjs.addAdUnits(adUnits); pbjs.requestBids({ bidsBackHandler: function (bidResponses) { headerBidderBack('prebid'); } }); });
} requestBids(apstagSlots, adUnits, PREBID_TIMEOUT) window.setTimeout(function() { sendAdserverRequest(); }, PREBID_TIMEOUT);
var nugg4webedia=''; var nuggrid = encodeURIComponent(top.location.href); var nuggn = 2069349029; var nuggsid = 919551733; var nuggsub ='//webedia-es'; var nuggscr = document.createElement('script');nuggscr.type = 'text/javascript'; nuggscr.src = nuggsub + '.nuggad.net/rc?nuggn=' + nuggn + '&nuggsid=' + nuggsid + '&nuggrid=' + nuggrid; var n = document.getElementsByTagName('script')[0]; n.parentNode.insertBefore(nuggscr, n);
googletag.cmd.push(function() { var g = '/241667871/3DJuegos/homepage/news'; googletag.pubads().disableInitialLoad(); googletag.defineSlot(g, [[1,1], [728,90], [1008,350], [970,250], [980,250], [980,90], [2,1]], 'dfp-masthead').setTargeting('Pos', ['top']).addService(googletag.pubads());// masthead googletag.defineSlot(g, [[300,250], [300,600]], 'dfp-atf').setTargeting('Pos', ['1']).addService(googletag.pubads()); // mpu atf googletag.defineSlot(g, [[300,250], [300,600]], 'dfp-mtf').setTargeting('Pos', ['2']).addService(googletag.pubads()); // mpu mtf googletag.defineSlot(g, [[300,250], [300,600]], 'dfp-btf').setTargeting('Pos', ['3']).addService(googletag.pubads()); // mpu btf googletag.defineSlot(g, [[980,90], [970,90], [728,90]], 'dfp-footer').setTargeting('Pos', ['footer']).addService(googletag.pubads()); // masthead_footer googletag.defineSlot(g, [[1,1]], 'dfp-thin').setTargeting('Pos', ['thin']).addService(googletag.pubads()); // thin_Banner[624,78] googletag.defineSlot(g, [[1,1]], 'dfp-inread').setTargeting('Pos', ['inread']).addService(googletag.pubads()); // inread googletag.defineSlot(g, [[1,1]], 'dfp-interstitial').setTargeting('Pos', ['interstitial']).addService(googletag.pubads()); // interstitial googletag.defineSlot(g, [[1,1]], 'dfp-oop').setTargeting('Pos', ['oop']).addService(googletag.pubads()); // out_of_page googletag.pubads().enableSingleRequest(); googletag.pubads().setTargeting("console_name", ["ios"]).setTargeting("publisher", ["sega"]).setTargeting("genre", ["estrategia","tiempo-real"]).setTargeting('game', ["company-of-heroes"]).setTargeting('url_sha1', 'd09f614ff78378f5ee01a91c9a3be5ffad9c18bc');
if (Krux.user) googletag.pubads().setTargeting("kuid", Krux.user).setTargeting("ksg", Krux.segments);
googletag.enableServices();
if (typeof NUGGjson === "object") { for (var nuggkey in NUGGjson) { googletag.pubads().setTargeting(nuggkey, NUGGjson[nuggkey]); } }
});
!function(f,b,e,v,n,t,s) {if(f.fbq)return;n=f.fbq=function(){n.callMethod?n.callMethod.apply(n,arguments):n.queue.push(arguments)}; if(!f._fbq)f._fbq=n;n.push=n;n.loaded=!0;n.version='2.0'; n.queue=[];t=b.createElement(e);t.async=!0; t.src=v;s=b.getElementsByTagName(e)[0];s.parentNode.insertBefore(t,s)}(window,document,'script','https://connect.facebook.net/en_US/fbevents.js'); fbq('init','1856413241239828'); fbq('track','PageView');