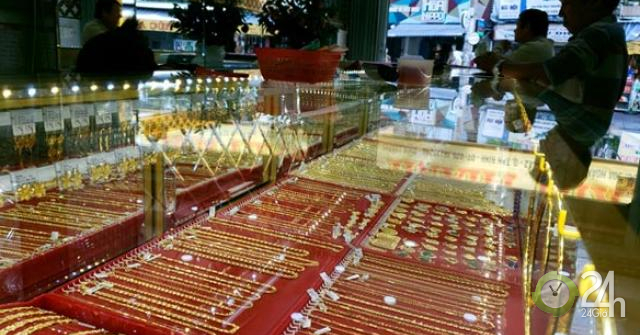 Wednesday, February 13, 2019 20:00 (GMT + 7)
Unlike previous years, before Tan day on January 10, a few days, Ho Chi Minh City gathered in gold and silver shops to buy gold to "get" the destiny god to return home year, demand for gold before that day is "cooled".
The shops sell golden hawks
Exactly in front of the Hoang Hoa Tham Market Gate (Tan Binh District, Ho Chi Minh City), there are nearly a dozen gold and silver shops. In the previous years, every day on January 8, two days before Shen Day, customers had lots of places, small merchants on the market got involved in buying gold, wishing to bring luck and luck. ,
However, today is 9, gold shops here are abandoned, scarce, sometimes customers visit, but people buy, people sell, do not fully buy gold for the luck of God resources.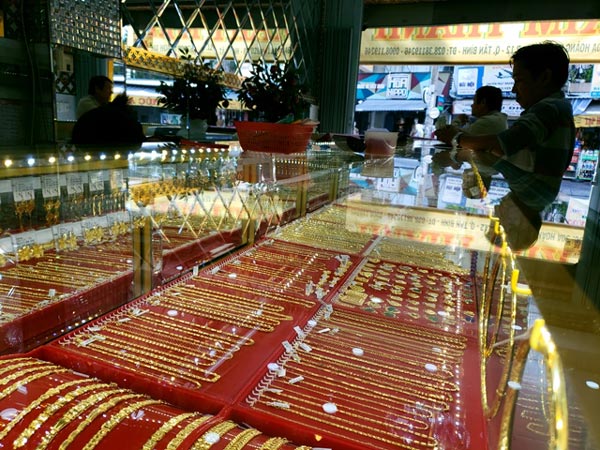 Customers were no longer interested in buying gold on the day of God's destiny
Ms. Hoa, a small businessman who sells clothes to the Hoang Hoa market, says: "For many years she has a habit of buying gold for God of Destiny. Last year, she took advantage of opening the market on August 8th. Tet and they also bought a ring with 2 rings, but this year no longer intends to buy gold.
Ms. Hoa said, "If you think of buying gold on Shen Shen days, there will be a lot of wealth throughout the year, but in the past year their goods are slow, trade is getting harder, so I paint something that is just a concept. , there is happiness or is no longer due to many factors. If I do not suffer from hard work, the market is not favorable. If there is no search, there will be no search.
Ms. Hoa also added that many relatives in the market do not buy gold, even though God's Day is near.
Only less than a day remained until the day of the god of destiny, but the gold shops were gloomy, they were missing
The golden store owner sadly said: "In fact, purchasing power this year has decreased much more than in previous years, customers who buy gold buy only when they need it, more or less, a few days before Shen Yun, it was almost no shop or visitors, but sporadic, the surrounding gold shops were in a similar situation.
In the gold and silver stores of large brands such as SJC, PNJ, DOJI, Bao Tin Minh Chau … the situation is better, but gold buyers are only part of the previous years.
The price of pushed gold is one of the reasons people do not want to buy gold on the day of genius
Not bought now I know the hole
Ms. Mai Thi Trang, employee of Phu Nhuan SJC gold shop, said that every year, just prepare for the day when God Tai, as a rule, the domestic price of gold will increase from the demand of the people are too large. Since this year, only yesterday to date, gold only 9999 has grown to VND 10,000. This is also an obstacle and a disadvantage for gold buyers.
Economic experts recommend that people buy only a small amount of gold on the day of the god of destiny to avoid heavy losses
Ms. Ngoc Binh (District 5) said: "In previous years, I waited until the day when God Ty just bought it, so the price of gold has always been higher than the usual hundreds of thousands of days. , I will not invest gold this year, but if I buy it, I will wait for a chance to stabilize the price, but not a "persecution" on the occasion of the genius.
Many economists also recommend that people not be in a hurry to buy gold to God of Destiny. Because of the easy to understand question, on the day of Shen Tai, gold prices are always rising. The buyer who lost more money did not have a "procession" to the god of destiny to return home as a concept. So, if you still have faith, you need to buy only very small quantities to pray for luck as a people's faith.