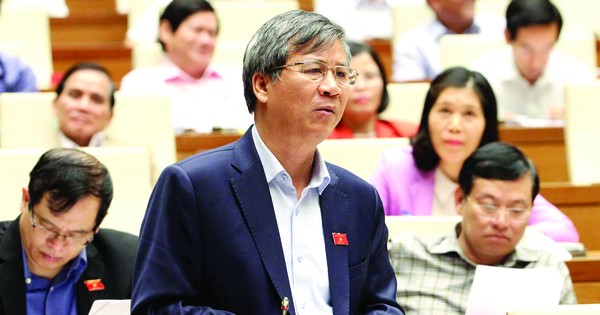 In particular, many opinions focus on measures to prevent the danger of alcohol and beer for teenagers and adolescents.
Don't force other people to use alcohol or beer
Qua Thi Thi Van (Dien Bien) shares that the regulation that prohibits people under 18 from using alcohol and beer is not strict because the limit between drinking, drinking, drinking is difficult to determine. "In my opinion, it must clearly state that people under the age of 18 use alcohol and beer. This will be sufficient and includes prohibited objects and actions," Quart Thi Van said, and proposed adding provisions prohibiting sales. wine from 15 degrees or more than 22 hours until 8 am the next day because here it is time for the body to rest, relax, avoid stimulating the nerves and the brain. In addition, according to research in several countries in the world, the regulation of wine and beer sales has achieved many positive results, contributing significantly to the reduction of violence, alcohol poisoning, accidents. Traffic through the use of alcohol, beer.
Dr Truong Thi Yen Linh (Ca Mau) expressed his support for the draft regulation: "It is not permissible to sell or supply alcohol or beer to people under the age of 18" because this would limit access of people under 18 years of age. old with alcohol, beer. "However, to implement this rule, the seller has the right to ask the buyer to provide information or produce identification documents to prove his age?" – Yen Linh wondered and asked. This issue must be entrusted to the Government for detailed provisions in the law as a legal basis for the Government to disseminate the guidelines needed when the law applies to uniform applications throughout the country.
Sharing views about regulations that prohibit under 18 years of alcohol and beer use, Nguyen Thi Phuc Delta (Hung Yen) wonders, such regulations are unclear, not strict.
What if people under the age of 18 actively drink or invite others to drink? Do people aged 18 years or older who drink at parties should be responsible for active drinking and beer under 18 years of age? Conversely, there are people over the age of 18 who cannot drink alcohol, beer and are weak but forced to drink again are not determined in law. "To ensure greater completeness and coverage, towards the goal of protecting and improving human health, I propose not to force other people to use alcohol or beer. Prevent people under the age of 18 from using alcohol and beer and use under 18 years of age in production and trade in alcohol and beer, "said Nguyen Thi Phuc.
At the same point, Delta Tran Thi Phuong Hoa (Hanoi) said that an easy draft regulation to get people to understand only prohibits people under the age of 18 from using alcohol, beer, no more than 18 years of age. S okay. In fact, people aged 18 years and over are the object of drinking alcohol, beer, and many new ages to force each other. "I propose to ban alcohol, beer on all ingredients, age than under 18. At the same time, in the draft decree that sets administrative sanctions against alcohol and the dangers of beer, it is necessary to impose sanctions for violations of this clause," – stressed Phuong Hoa.
Prohibit advertising how reasonable?
According to Pham Trong Nhan (Binh Duong), from 2014 to 2016, global consumption of alcohol and beer increased insignificantly, Vietnamese alcohol and beer consumption doubled and this is only a number. millet is According to the National Traffic Safety Committee, alcohol-related traffic accidents cost around VND 250 billion every day, not to mention the severe and long-term consequences for families and communities that cannot be measured. countable. Beer, alcohol is the direct cause of at least 30 traumatic diseases and is an indirect cause of at least 200 diseases, registered in the International Classification of Diseases. But, alcohol advertising makes listeners mistaken for the appeal of a kind of tonic or pharmacy with slogans like "a thousand years", "the same passion", "the substance of successful people", "lifting glasses because of big releases" … Pham Trong Nhan proposes that advertising beer, alcohol must be banned in all programs in newspapers, newspapers, newspapers, social networks. Not only sports, cultural and theater programs for children.
However, according to Nguyen Anh Tri (Hanoi), wine and beer are also items that must be advertised but are limited in content, location, time and type. It is important that you do not limit your alcohol content to advertisements because "pancakes are very drunk". As a result, the general requirements for alcohol advertising are not to advertise in outdoor media. Such regulations will guarantee advertisements but with restrictions, especially restrictions on any level of alcohol from low to high.
According to Ha Thi Minh Tam (Ha Nam), the design allows organizations and individuals to advertise beer products in sports programs, cultural theaters, cinemas, and outdoor advertising facilities. For beer with an alcohol content of less than 5.5 degrees. This regulation is inappropriate and creates a huge legal loophole in advertising beer products, because currently in the market for Vietnamese beer, especially beer products with an alcohol concentration of 4 to less than 5, 5, alcohol in beer from 5.5 to less than 15 degrees produced but not many. This is a good review, because this will allow brewers and producers to produce spirits by producing products with low concentrations below 5.5 degrees.