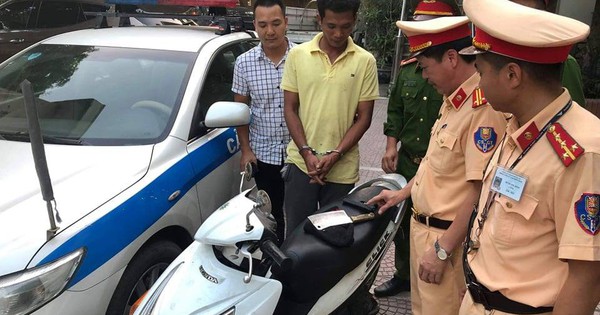 On the evening of May 17, believing police unit No. 10 (Hanoi Police Station), the unit that had just co-operated with the Fu Dong district of Ha Dong district arrested Tran Van Dan (SN 1983, resident in the 5th communal group ). Dong May, Ha Dong District, Hanoi, puts weapons on women's heads Robbery of motorcycles,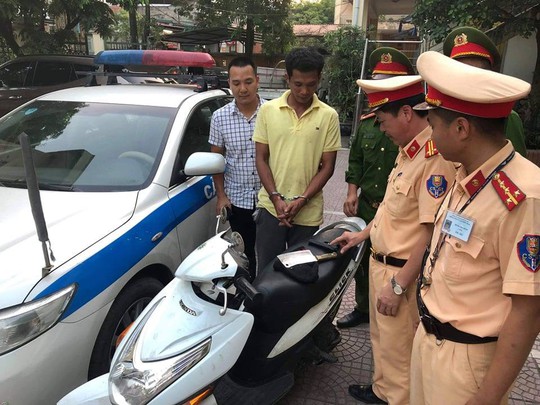 Tran Van Dan is arrested by a functional force – Photo: Police are provided
According to Lieutenant Colonel Bui Xuan Phuong, Deputy Chief of Road Police, No. 10, noon 17-5, when patrolling traffic police on the road of government, they received news from the Phu Lam Ward Police (Ha District). East) requires a coordinated arrest and robbery of a woman's bike in the area of ​​lunch that same day.
Immediately the patrol team led by Lieutenant Colonel Bui Siuan Fuong deployed a team of weekly notifications to be stored on the route to identify and arrest the object with notification features.
About 16:45 On May 17, in the area of ​​Phu Lam, the Task Force of Police Team No. 10 found a young man driving a Honda motorcycle with a suspicious look.
The CSGT then signaled a stop order and requested an administrative check for this young man. Young men could not produce ID documents and documents related to the BKS 30X6-9214 controlled motorcycle. Continuing the inspection, the team found the pocket of the site with a 30-cm long knife and a black plastic pistol.
Fighting on the ground, the purpose of claiming to have robbed that woman from a car at noon on the same day, is about to consume and then be arrested.
Traffic police No. 10 then handed over the objects and exhibits of Ha Dong district police to continue the investigation to make it clear.
B.H.Thanh