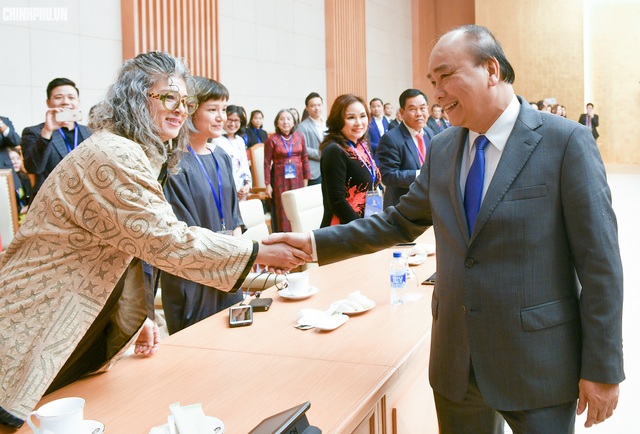 Speaking at the meeting, they sent a visit, with best wishes to all Vietnamese overseas business communities, Vietnamese enterprises abroad for the Lunar New Year, the Prime Minister confirmed that they listen and receive opinions, thoughts and aspirations of people and want to have more programs with more and richer and special content in response to deep feelings, the contribution of people, only resources, intellectual and talented, in areas such as culture, art or soccer …
"Is the Prime Minister's economic advisory team, whether a football goalkeeper or an economic sector, has Vietnamese relatives abroad," the prime minister said.
Sharing with people about the country's socio-economic performance over the past, the Prime Minister said, we are among the highest growth groups in the region and the world, stable growth rates and improving people's lives.
In addition, Vietnam's business and investment environment was better. The investment climate of many overseas Vietnamese is more exciting. The prime minister said that during missions abroad, the leaders of all countries highly appreciated the Vietnamese community. During meetings with country leaders he proposed to take care of and protect the rights of the Vietnamese people.
In the achievements the country has achieved over the past, the prime minister has confirmed with the contribution of overseas compatriots in many different ways. So far there have been over 200 Vietnamese overseas projects with a total investment of nearly $ 5 billion. And one of the most obvious contributions is that many Vietnamese experts and intellectuals share the country's development.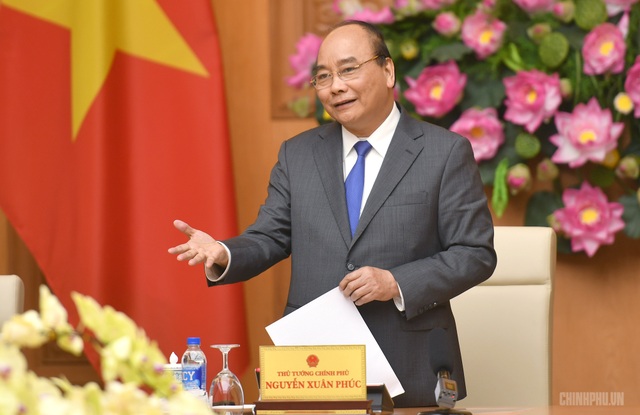 The Prime Minister expressed his satisfaction that when relatives always take care of preserving Vietnamese culture in every "house, corner of the kitchen", many people succeed in science and technology, especially some primary school students in the host country.
The Prime Minister highly appreciated the role of many young immigrants with advanced knowledge and knowledge that show their youth, enthusiasm and return to the start-up countries.
The Prime Minister said the 12-word slogan of the government in 2019 had the word "breakthrough", that is, 2019 should be more than 2018 in all respects. Government leaders want the Vietnamese overseas Vietnamese, Vietnamese Entrepreneurs Association in foreign countries to respond to these "breakthrough" words.
The Prime Minister expressed his conviction that with the will and determination to build a state, the people of the country, as well as the overseas Vietnamese, together work together to "break through" to succeed.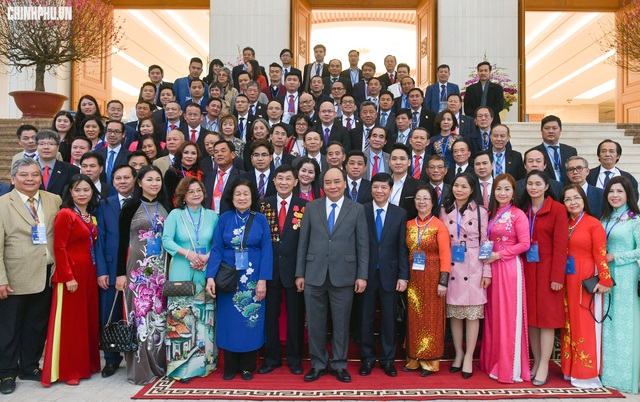 The Prime Minister wished his children to promote the spirit of community solidarity, mutual love. People find every creative, most effective way appropriate to their abilities and circumstances to promote, promote Vietnamese branding, consume and sell Vietnamese goods in supermarkets, shops, distribution channels in the host country. The Prime Minister and Ministries are ready to support people in this process.
The prime minister also hoped that her relatives would find mutual funds in the community to invest in Vietnam and confirmed that they would create favorable conditions, listen and solve problems.
For some areas where people still face difficulties, especially legal conditions, the prime minister said they will continue to exchange and negotiate with the host countries to create conditions for stabilizing people's lives. ,
P.T