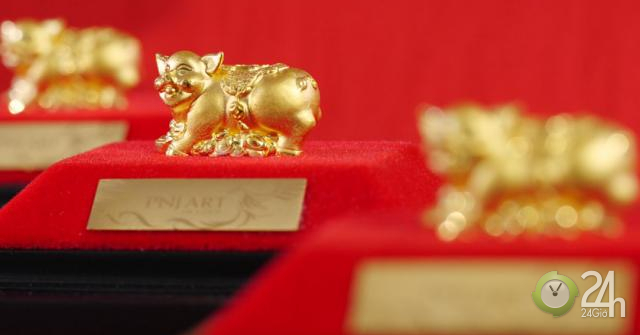 Wednesday, February 13, 2019 (GMT + 7)
This year, on January 10, Shen Tai coincided with 14/2 Valentine, so gold and other jewels are being fished by many as gifts and gifts. However, gold prices are often increased on this occasion, customers have to think carefully before deciding to buy gold for luck.
The gold pig is expensive
This year's feast of the gods (January 10) is the Lunar Year, Tiger's Year, which falls on Thursday (February 14, 2019), as well as on Valentine's Day. Therefore, the demand for gold on the day of Tai and Valentine's Day is expected to rise very high.
Mr. Vo Hoang Hui, sales manager at PNJ, said: "Shopping is not only good, but is also driven by the quest for beauty, accumulating and rewarding women after one year. work. Especially this year, Shen Yun Day and Valentine's Day overlap, this is a challenge for the gift market. "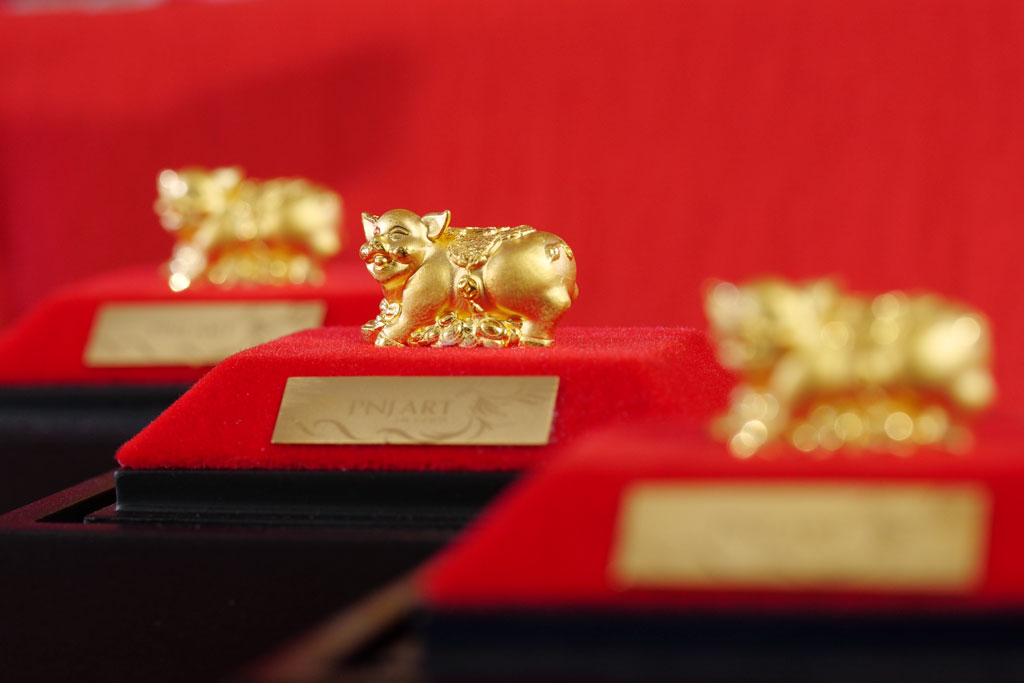 Big value of golden pigs started on the occasion of Tai Chi and Valentine's Day this year.
Taking this demand, gold makers, retailers and jewelers are also preparing to launch a variety of products bearing the talisman symbol of the year.
Ms. Tran Thu Ha, owner of a gold shop on Le Quang Dinh Street, Binh Thanh District, Ho Chi Minh, said: "This year, aside from Mr Than Tai's image as every year, gold makers and handlers also started . many pig-shaped products that meet the needs of buyers. "
Mr. Nguyen Tan Hue, director of Phan Dang Luu Street, Phan Dung Luu District, Phu Nhuan District, Ho Chi Minh, also said: "The company has released many kinds of products to serve the Year of Feeding Pig as shown: Golden and sons of silver; The pigs embraced coins, the pigs embraced gold … This is 24K gold, making bracelets or pendants … ".
The golden elements of feng shui will also be an option for many people.
Similarly, large golden companies have also released many gold products and jewelery related to pigs at a fairly varied price ranging from several million to one hundred million donations. Typically, "pig with gold", "yellow pig", "pig with golden ingot" … cost from several tens of millions to more than a hundred million VND / product.
In addition to the gold or gold products of pigs, a series of gold with different shapes and sizes for the Shen Yun Day and St. Patrick's Day.
Be careful when buying gold
It is worth noting the trend of buying gold and jewelery in the early days of the year, especially on the day of Shen Yun's increase. That's why many people had to order or buy online because of a queue.
"Different from every year, many people are afraid to stand in line and not buy goods so they come in advance in our store. Some guests put a lot of gold. Or someone has come to deposit money and on the day of Shen Yun (January 10th) to collect and pay seems to be the day of purchase, not the purchase of the day before, "Ha said. ,
To avoid banging, many people have saved or bought online.
Buying Shen Yun's gold for people on the first day of the year has become a habit. In particular, business and commercial circles believe that buying gold at the beginning of the year will bring happiness and good fortune throughout the year. This is why many people have come together to buy the gold they want.
"I had to order to get used to the gold I wanted. Not for investment and business, but I hope that on Fortune's day, everything will be happy for the whole year when it's owned, "said businessman Tran Din Ha, Binh Thanh district, Ho Chi Minh City. ,
Mr. Nguyen Binh, owner of a golden store in district 5, Ho Chi Minh City added: "Today, in addition to ordinary gold such as rings, rings, bracelets, gold bullion or gold, many people still looking for goods Feng Shui is gold or gilded talisman of the year for gifts, gifts or decoration of desks and daily … This trend is increasing because people think instead of buying gold. If it is taken away, buying gold in this way will be beneficial both for the road and the decoration, as well as for the purchase of gold during the Fool's Day. "
A purchase receipt requires a product information note, especially the serial number of the gold part, and careful examination and careful storage of the accompanying documents.
Feng Shui Nguyen Van Bay said, "People buy gold on the day of the god of destiny, choose the image of the pig, in addition to the meaning of the talisman of the year, it also symbolizes the completeness, bringing good luck, good, eliminating the bad and conflicts for the owners housing, or donors, and the representation of a statue of a pig also symbolizes the spread and prosperity of wealth and happiness.
Dr. Nguyen Min Hoa, Ho Chi Minh University of Economics said: "People need to buy gold, especially to pray for happiness the day God is a long-term concept. However, if there is a need to buy sewing and jewelry, it is possible to buy affordable products, especially those that can be sold but with little loss in the future. If you buy feng shui products like gold 16k, 18k, 20k … it will be hard to sell and make more mistakes. "
"On the other hand, in the days close to Tai Thai Day, the price of gold is usually higher because of high demand, so people also have to consider, especially by buying in large quantities," the expert recommends.
Ms. Nguyen Thi Anh Hong, head of a jewelry store in Go Vap District, Ho Chi Minh also recommended: "These days the demand for gold is very high. If the customer needs a purchase, the invoice must be clearly indicated with the product information, especially the serial number of the gold part and carefully monitored, careful storage of the accompanying documents. At the same time, you have to look at the golden shops, renowned gold supply units, avoid cheating, or buy low quality gold.