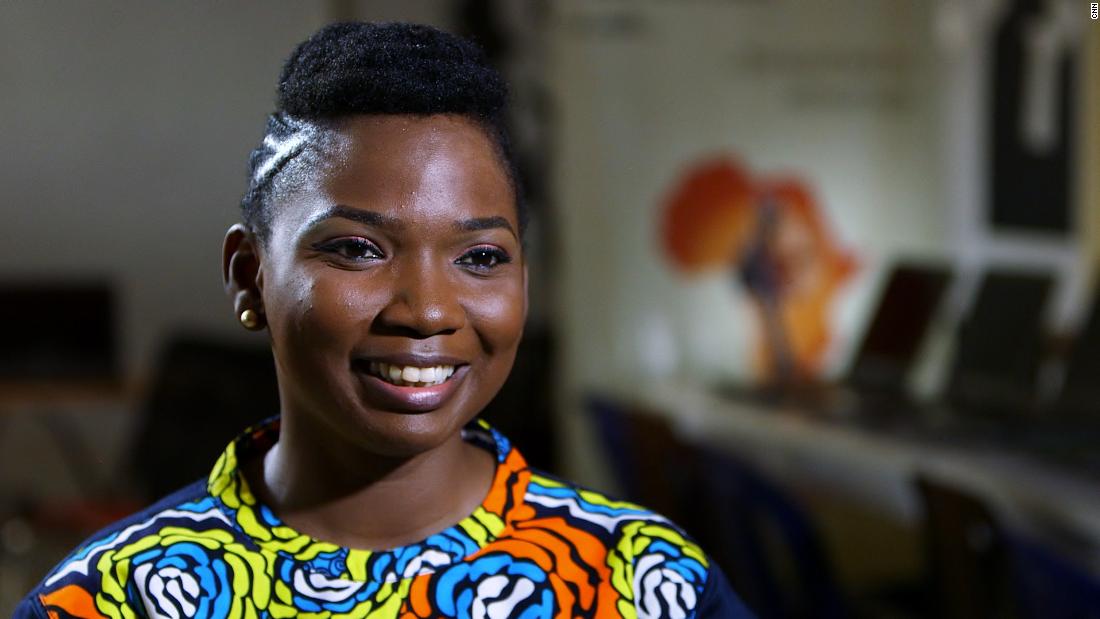 Windy huts stand on stilts in polluted water. Canoes are needed to transport through the labyrinth of narrow canals. Ojo's father is a fisherman and her mother sells smoked fish that lives on the edge of Africa's largest city.
Lagos has a thriving economy built on oil, finance and production. And now the city is considered to be Silicon Valley in Nigeria, where earlier this year have opened offices on Facebook and Google.
However, it is estimated that about two-thirds of the city's 21 million inhabitants live in slums that lack reliable electricity, clean water and sanitation.
"When I first went to Macau, I was surprised to see people's living conditions," recalls Abisioy Ayaye-Akinfolarin, a computer programmer at Lagos. "Most girls are caught in a vicious circle of poverty, many of whom do not think of education, a plan for the future."
But several times a week, girls like Okpoe get a glimpse of another world when they visit GirlsCoding, a free program run by the Pearls Africa Foundation that seeks to educate and excite girls about computer programming. Since 2012, the group has helped more than 400 disadvantaged girls to get the technical skills and confidence they need to transform their lives.
This is the vision of Ajay-Akinfolarin, who left a successful career to devote himself to this job. She had noticed how few women work in this developing area – a government survey in 2013 found that less than 8% of Nigerian women were employed in professional, managerial or technology jobs. She wanted to pinpoint the gender gap.
"Technology is a man-dominated space, why should we leave it to boys?" she said. "I believe that girls need opportunities.
Now, after school and in summer, dozens of girls aged 10 to 17 are trained in HTML, CSS, JavaScript, Python and Scratch. Students come from slums or other challenging circumstances, such as orphanages, repairs, and even a camp for those who have had to leave Boko Haram.
"I think you can still find diamonds in these places," said Ajayi-Akinofarin. "They have to be shown another life."
One way her program does this is to make students visit technology companies – not just to show them what technology they can do but also to help them present themselves in the industry.
Okpoe, for one, has taken this to heart. It helped create an app called Makoko Fresh to join this summer by allowing fishermen like their father to sell seafood directly to customers. She wants to become a software engineer and hopes to study computer science at Harvard.
"One thing I want my girls to support is, no matter where they come from, they can do it," she said. "They are coders, thinkers whose future is bright."
CNN spoke to Ajay-Akinfolarin for his work. Below is an edited version of their conversation.
CNN: How did you find your love for computers?
Abisioy Ayayi-Akinfollarin: The life that grew for me was difficult. The loss of my mother at the age of four (being) by my father – life was just crazy. I learned to take care of myself.
My first computer experience was at the age of 10, on a school break, at a business center run by my brother's boyfriend. Learning to write and modify text in Microsoft Word is just beautiful. But I really found my love for computers when I joined an IT company as a postgraduate trainee. When I was familiar with the world of computer programming, I was quite natural to him. It was just running. It's all about solving problems. I never knew I would look for solutions to the problems with less privileged girls.
CNN: Do not you solve the problems at the heart of your program?
Ajayi-Akinfolarin: That's what GirlsCoding is all about. We want the girls to be leaders and agents for change. We encode a goal, so trying to solve problems related to what they see.
For example, a project I really like is called Reliable Baskets. The girls wanted to get the beggars out of the streets, so they created a website to be a bridge between the rich and the poor. They wanted a way for someone to explain their house and call them. Then they take what they are getting rid of – food, clothing, educational materials – and give them to the needy.
We have another project called "Break the Blade" to stop female genital mutilation. These girls think they have a lot of ignorance about it and want to be ambassadors on this issue. In the end, they want to have a wrist strap where you can press a button and urge local authorities to come in if the FGM is about to happen.
The fact that they can create solutions to problems makes them feel bold. It's no longer just about coding.
CNN: What do you hope to do in the future?
Ajayi-Akinfolarin: We are currently expanding in different countries in Nigeria. One day we hope to have an institution called the Girls Village – a housing program that will provide all kinds of training for young girls. We also give them a chance to incubate their ideas on how to solve the problems in their communities and learn how to change them. You might call it a larger version of what we are doing now.
CNN: You declined a career in a growing industry to do this job.
Ajayi-Akinfolarin: We want girls to be the creators of technology, not just consumers. Watching them write code is beautiful. Many of them never touched the computer before they came here. That's exciting. The joy of their faces is more than money. I can not buy it.
Do you want to join? Take a look Website of the Pearl Africa Foundation and see how to help.
To donate to Pearls Africa Foundation, click on the CrowdRise widget below.
Source link