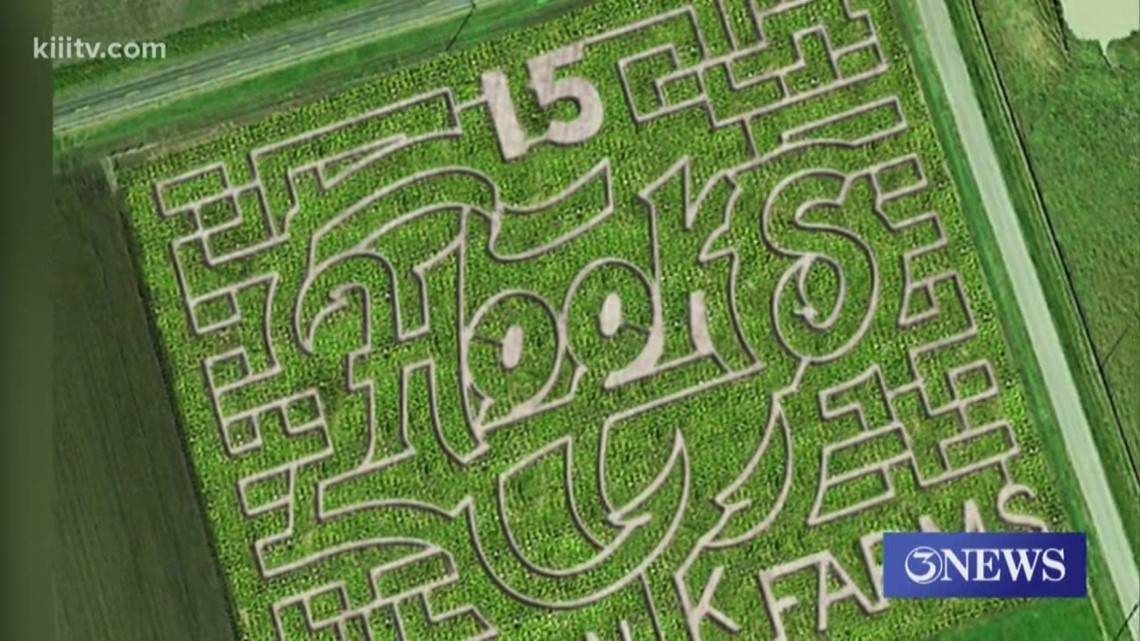 [ad_1]
Visitors to the 2019 Rockin & K Farms Fall Festival will have the opportunity to see the largest Hooks logo ever created.
"True to American folklore, baseball and cornfields go hand in hand," Hooks general manager Wes Wagel said. "The Rockin & K Fall Festival coincides with many of our key goals that we are striving for at Whataburger Field, and we are eager to partner on an even larger scale. with my three sons! "
The 6.2-acre maze near Robstown will resemble Cookie's main logo to celebrate the 15th season of the Corpus Christi franchise.
Participants will need to answer 10 questions related to hooks across the maze.
Rusty and Sammy's Mascots will perform at the Autumn Festival during its opening weekend, September 28-29.
More from 3News on KIIITV.com:
(function () { var modules; var suppressModules = document.getElementById('tegna_loadmodulesscript').getAttribute('data-suppress-modules') === 'true' ? true : false;
if (suppressModules) { modules = [ 'alert-bar', 'error', 'page', 'grid', 'desktop-header', 'toolbar', 'weather-summary', 'navigation', 'throbber', 'utils', 'tegna-utils', 'fitted-headline', 'tracking', 'progress', 'tealium', 'live-indicator', 'taboola', 'ad' ] } else { modules = [ 'error', 'page', 'grid', 'desktop-header', 'toolbar', 'weather-summary', 'navigation', 'video', 'throbber', 'utils', 'fitted-headline', 'forecast', 'article', 'continuous-scroll', 'sharing', 'gallery', 'radar-gallery', 'forecast', 'article-crosspromo', 'featured-videos', 'chapter-slider', 'pollen', 'olympics-live-stream', 'three-day-outlook', 'current-weather', 'search-results', 'tracking', 'chapter-progress', 'progress', 'countdown-clock', 'longform-explore', 'media-gallery', 'social-sharing', 'weather-alerts', 'weather-interactive-radar', 'closings', 'tealium', 'alert-bar', 'cookie', 'sticky-sharing', 'live-indicator', 'sharethrough', 'taboola', 'elections', 'just-for-you', 'just-for-you-li', 'olympics-tv-listings', 'headline-list-with-abstract', 'text-only-headline-list', 'story-snapshot-with-abstract', 'snapshot', 'story-snapshot', 'special-content-headline-list', 'notfound', 'linked-image', 'article-recirculation', 'linked-image-with-title', 'newsletter-signup', 'linked-image-with-title', 'newsletter-signup-multiple', 'live-videos', 'breaking-news', 'weather-alerts', 'closings', 'media-gallery-alt', 'alert-center-menu', 'trending-list', 'toc', 'featured-radars', 'searchbox', 'hot-races', 'recirculation', 'photo', 'video-youtube', 'newsletter' ]; } /* var modules = [ 'error', 'desktop-header', 'navigation', 'page', 'grid', 'toolbar', 'video', 'throbber', 'utils', 'tegna-utils', 'continuous-scroll', 'gallery', 'tracking', 'tealium', 'sharethrough', 'datasphere', 'iframe', 'photo', 'video-youtube', 'newsletter-signup', 'newsletter-signup-multiple', 'ad' ]
function inArray(needle, haystack) { var count = haystack.length; for (var i = 0; i < count; i++) { if (haystack[i] === needle) { return true; } } return false; } var moduleElements = document.querySelectorAll('[data-module]'); for (var i = 0; i < moduleElements.length; ++i) { (function () { var thisModuleName = moduleElements[i].getAttribute('data-module'); if (!inArray(thisModuleName, modules)) { modules.push(thisModuleName); } })(); } console.log('===== loading modules: ', modules); */ require.config({ 'baseUrl': '/', 'deps': modules, 'waitSeconds': 30, 'bundles': { 'modules': modules }, 'paths': { 'jquery': 'scripts/jquery-3.1.1.min', 'jwplayer': 'content/player/jwplayer.js?version=3.13.1', 'modules': 'Views/dist/scripts/modules.min.js?version=3.13.1', 'facebook': 'https://connect.facebook.net/en_US/all', 'twitter': 'https://platform.twitter.com/widgets', 'slick': 'content/libs/slick/slick.min', 'dotdotdot': 'content/libs/dotdotdot/jquery.dotdotdot.min', 'jqueryui': 'Views/lib/jquery-ui/jquery-ui.min', 'comscore': 'content/libs/comscore/comscore.min', 'stickyfill': 'content/libs/stickyfill/stickyfill.min', 'youtube': 'https://www.youtube.com/iframe_api?noext' }, 'shim': { 'facebook': { 'exports': 'FB' }, 'twitter': { 'exports': 'twttr' }, 'youtube': { 'exports': 'YT' }, 'jwplayer': ['jquery'], 'jqueryui': { 'deps': ['jquery'] }, 'slick': ['jquery'], 'dotdotdot': ['jquery'] } }); })(); [ad_2]
Source link