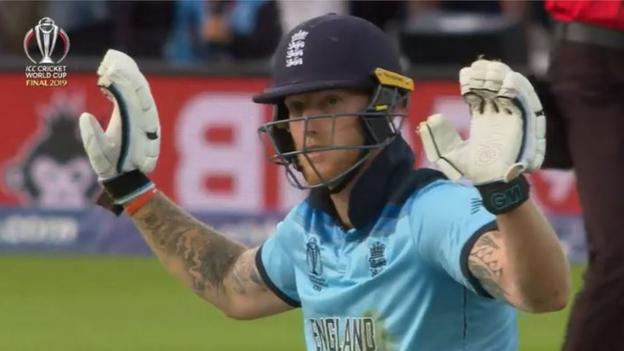 [ad_1]
British cricket director Ashley Giles says he is not interested in saying that England has received an extra chance in winning the World Cup over New Zealand.
The plowman struck Ben Stokes as he dived to finish the second round in the final and went to four.
England received six runs, but Stokes and Adyl Rashid did not pass when the roll was released, so the law says it says that was too much.
Asked if it matters to him, Giles said, "Not quite."
He added, "You can argue the last ball [Trent] Bowl hugged himself with a full throat throw, and if Stokes had not only looked for two, he would have hit him off the ground.
"We are world champions, we have the trophy and we intend to keep it."
The retired Australian judge, Simon Taufel, who has been named the arbiter of the International Cricket Council on five consecutive occasions from 2004 to 2008, called the "clear mistake" award for the additional post.
The ICC has stated that the arbitrators have taken decisions on the spot based on their interpretation of the rules and have not commented on them.
Stokes continued to help England in the New Zealand match of a total of 241 before earning one of the most incredible cricket games ever to have played after an extra "Super Over".
Both teams finished extra with 15 runs, but England was a crowned champion because it had scored more goals and sixs – 26 to New Zealand 17 – throughout the game.
New Zealand bastard Henry Nichols rejected the decision as part of the sport.
"It does not mean anything to us now, it's the game, things are happening," he told BBC Radio 5 Live.
"Sometimes you get green, England has had a great tournament, they have been the dominant team for the last four years so they deserve to win it."
What does the law say?
Law 19.8. Removal or deliberate assault:
If the limit is the result of a player's removal or deliberate action, the draw points will be:
all races of punishment granted to each of the parties;
border allowance; and
the slopes completed by the adjectives along with the mileage that has already passed at the time of the throw or acting.
[ad_2]
Source link