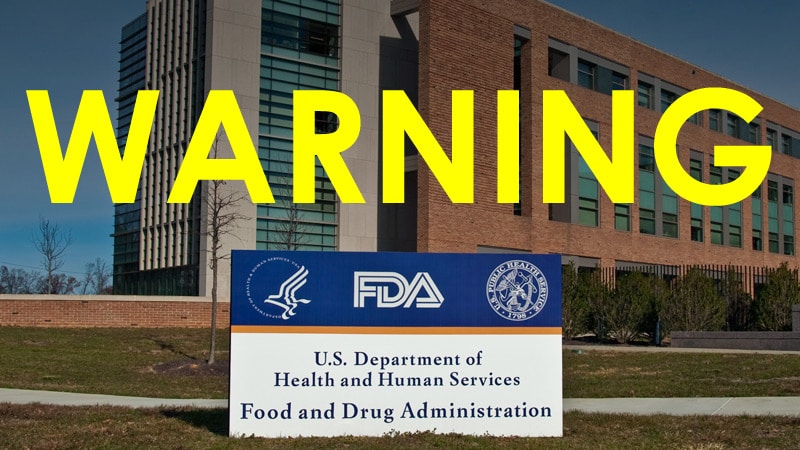 The US Food and Drug Administration (FDA) has issued a warning against the use of unauthorized diabetic devices, including insulin pumps and continuous glucose monitors (CGM), as well as other non-approved devices and algorithms used to create automated delivery systems for insulin .
"These unauthorized diabetes management devices have not been reviewed by the FDA to ensure that they provide reasonable safety for their intended purpose and safety.The use of unauthorized devices may result in inaccurate indication of glucose or hazardous dosage of insulin, which may result in injury requiring medical intervention or death, "the FDA statement said.
The warning follows a patient case report using a system that includes an unauthorized insulin delivery device that receives electronic signals from an FDA-approved glucose sensor and converts it to a glucose value using an unauthorized algorithm. The system gives the patient too much insulin "in response to recurrent incorrect high glucose values," the FDA report said, and the patient needs medical intervention.
"These devices are not designed to be used together and are combined in a way that has not been fully tested for compatibility," the FDA warns.
For healthcare providers, the FDA advises, "Keep in mind that patients should only use diabetes management devices that the FDA has authorized for sale in the US and must use them in accordance with the manufacturer's instructions."
If patients experience unwanted events associated with the use of any diabetes management device – whether authorized or not, clinicians are advised to report them to MedWatch, the FDA's safety information program and reporting of adverse events.
Answer the DIY community and JDRF
The warning triggered a response from three developers of "do-it-yourself" delivery systems, as described in previous Medscape reports. This "Open Artificial Pancreas (OpenAPS)" started in 2015 when individuals of Type 1 diabetes started hacking older FDA approved insulin pumps and developing open source code to communicate with FDA-approved CGM & quot; closure & quot; for semi-automatic delivery of insulin. Estimates show that thousands of patients already use such systems worldwide.
In the joint statement Twitter, the main developers of Loop, OpenAPS and AndroidAPS said that "the FDA is aware of the DIY community." This announcement leads to something very important that we need to address, transparency and accountability.
According to the DIY statement, the report was outside the United States and since then the patient has recovered.
The statement says: "We want to report unwanted events in the DIY system if and when they happen." We do not support any efforts to minimize or avoid reporting / reporting of unwanted events. potential problems – is an equally important part of the "open" aspects of the diabetic community.
In a statement sent to Medical news from MedscapeThe president and chief executive of the Foundation for the Study of Juvenile Diabetes (JDRF) Dr. Aaron Kowalski said that "a growing number of people in [type 1 diabetes (T1D)] benefit from the community [DIY] approaches for automated delivery of insulin. Today's FDA's warning not to use unauthorized and unauthorized diabetes management devices is not unexpected – when the agency receives undesirable events, it is not unusual for it to issue warnings.
"We encourage the T1D community to report DIY and other device issues when they happen and the agency share information with the public when needed. JDRF believes that anyone who approaches approaches alone has to weigh the risks and benefits of their own perspective.
"Our priority in JDRF is to provide more opportunities that can improve the lives of people with diabetes, including versions of innovative DIY approaches," he concludes.
Since the start of the movement, the FDA has approved several semi-automated insulin delivery systems and their components, including Medtronic's MiniMed 670G Hybrid Insulin Delivery System, which is a thin X2 insulin pump with Basal-IQ technology (Tandem Diabetes Care) interoperability: thin X2 "pump with built-in backup controller (ACE)" and integrated Dexcom G6 integrated glucose monitoring system (iCGM).
For more news about diabetes and endocrinology, follow us twitter and Facebook.